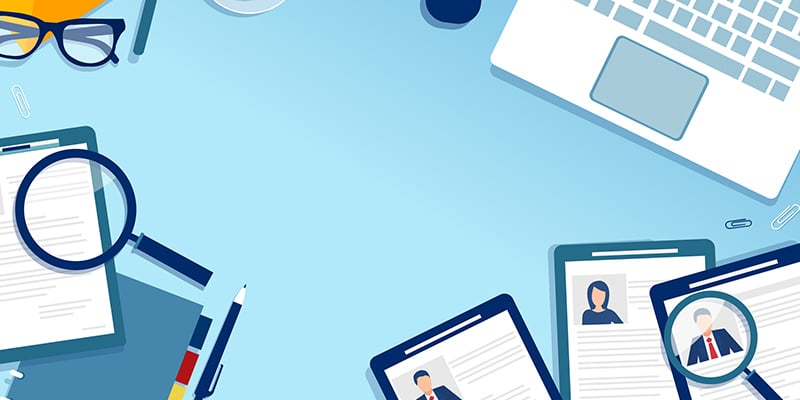 As is our annual tradition, we look back over the previous year to predict future trends for the new year. Employers and hiring managers have had a rough two years and are looking for the light at the end of a very long tunnel. Without further ado...
The Top Ten Posts of 2021: Employment, Hiring and Background Screening Trends for 2022.
#10: What Do Candidates Expect from Employers Post-Pandemic?
As employers sought to increase recruitment efforts, it's no surprise that this topic would be in our top 10 for the year. Candidates are highly scrutinizing employers for benefits, flexibility and improved company culture. The "Great Resignation" isn't slowing down, with mid-career employees walking away from jobs more than ever before. We expect more of the same in the coming year.
#9: Scared of Losing Candidates Due to Background Screening?
Continuing the theme, some employers were opting out of background checks due to turnaround time. We suggest otherwise and offer best practices to optimize the time and money spent on pre-employment screening. Employers are wise to continue running background checks to protect their valuable assets - including other employees. These tips are helpful and still relevant in 2022.
#8: The HR Guide to Saving Money on Background Checks
Again, VeriFirst offers transparency and advice on the cost of background checks. In this post, we share the typical costs of various background reports and offer a downloadable guide for screening based on job responsibilities. Not every candidate will require every background check. Always great advice, start with a screening policy based on the job description and run screens on a smaller applicant pool.
#7: How Vaccines Are Affecting Hiring and Recruiting
As 2020 drew to a close, employers were filled with hope that the worst of it was passed. Vaccines were being rolled out and the pandemic would finally be over. Unfortunately, 2021 proved that wasn't the case. Employers began issuing vaccine mandates and requiring vaccine status. Applicants began including their vaccination status on their resumes. As in the previous years, 2022 will challenge employers to remove the potential for hiring bias.
#6: Could Hybrid Working Cause Discrimination?
With employers attempting to manage remote work flexibility in 2021, business analysts began warning of workplace discrimination. The perception was that if an employee wasn't in the office, they weren't as involved as those who were. Hybrid work models are still being adopted by some of the largest enterprise corporations. While the pandemic rages forth into the new year, employers continue to struggle with the decisions of in-office, remote and hybrid options.
#5: Does Your Hiring Process Include DEI?
Diversity and inclusion have been part of the overhaul of corporate culture we've been seeing in recent years. This post began a deeper dive into future posts around diversity, equality, inclusion and the DEI gaps that are typically discovered among hiring and recruiting policies. Offering a place to start for HR and hiring managers, the questions posed in this post prompt important conversations around unconscious bias when hiring. Again, this topic deserves more attention in the coming year.
#4: Can Employers Fire Someone for their Social Media?
In 2020, we began to witness corporations sharing their thoughts around the Black Lives Matter movement, environmental causes and more. After a popular character was cut from a Star Wars spinoff due to her social media posts, this post suggested options for HR to ensure they could legally let someone go. It raises an important question because individuals have not shied away from sharing their personal thoughts on social media. Should those thoughts affect their jobs? Since this post was published, Disney is now considering rehiring the star to reprise her role.
#3: Should Freelancers Get Pre-Employment Background Checks?
Since the mass exodus of employees and employer struggles to hire, independent contractors and freelancers are being hired to fulfill the gaps. Depending on the type of job and access to certain data, VeriFirst recommends that employers consider screening freelancers to maintain security. Not every independent contractor will need a background check, but for those that do, we include a list of those to be considered.
#2: Can HR Deny Employment Based on Criminal Records?
Always a popular topic, our readers look to VeriFirst to offer clarity on criminal records and FCRA compliance. We recommend assessing the criminal record against state and federal policies such as Ban the Box, the EEOC, and FCRA regulations. These recommendations also include a background check policy and decision matrix to ensure consistency and fairness.
Yet another topic that will resonate into the coming years, employers have questions on screening transgender applicants to avoid hiring discrimination. This post highlights some of the challenges that hiring managers will face during the screening process including deadnames, pronouns and verifying previous employment. We hope to continue to help employers become allies to those who are willing to work and also seek confidentiality and privacy.
Employers and hiring managers will again be challenged by applicants to be inclusive, transparent and flexible in 2022. It's possible that we're facing an employee revolution and the employees who are paying attention will rise to the top. Happy New Year!