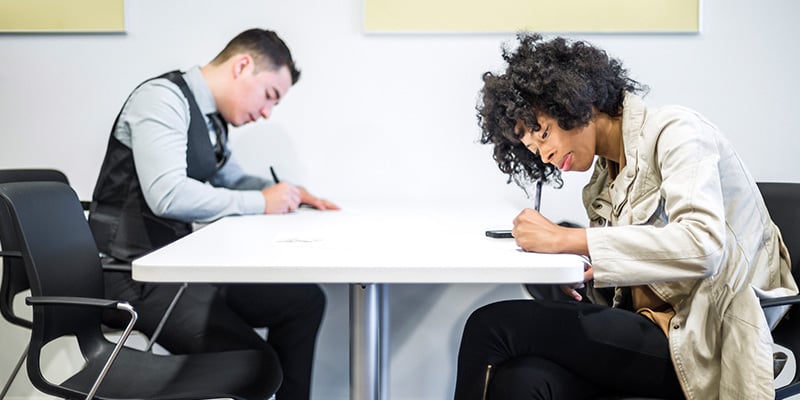 In our attempts to keep our clients and readers up to date, we occasionally share news from other sources. These links will go to third-party websites that have been vetted or verified as trustworthy. As employers look ahead to the new year, the EEOC (Equal Employment Opportunity Commission) has been in the news for litigation and strategic initiatives for the new year. We hope this information aids in reducing hiring discrimination and lawsuits.
EEOC News and Trends for 2022
DOL + EEOC Hiring Initiative
The U.S. Department of Labor and the EEOC announced a new initiative this week to "reimagine hiring practices to advance equal employment opportunity." After recognizing the calls for racial equity and how COVID has affected communities of color disproportionately, the program seeks to expand access to good jobs for underserved communities and to address the hiring and recruiting challenges that exist today. Learn more about the HIRE (Hiring Initiative to Reimagine Equity) program here: https://www.eeoc.gov/hiring-initiative-reimagine-equity-hire
Current EEOC Litigation & Claims
Against Maryland Department of Transportation in violation of the Equal Pay Act: A male community liaison was paid lower wages than his female co-workers.
Against a Honda Dealer in Louisiana in violation of the Americans with Disabilities Act: A salesperson was told to stop taking her ADHD medication and subsequently fired.
Against BMW Cleveland in violation of Age Discrimination in Employment Act: The dealership denied employment of a former employee based on her age and fired two others because of their ages.
To stay up to date on current EEOC litigation and claims, bookmark this page: https://www.eeoc.gov/newsroom/search
Other Trends in EEOC Claims
In reviewing EEOC claims and litigation from 2021, some trends emerged that hiring managers should be aware of:
The 2020 landmark decision of Bostock v Clayton County saw the Supreme Court uphold the EEOC guidance that Title VII prohibits discrimination against gay and transgender employees. The EEOC is also looking into religious discrimination and accommodation. As these two sides are often opposed, employers should be aware of how they'll shake out in the courts over the next few years.
Discrimination claims for women or those with disabilities have been front and center in recent years. With pregnancy discrimination and accommodation highlighted in a case against Walmart and physical abilities discrimination in a case against a trucking company, it's more important than ever for hiring and workplace accommodation to be fair for everyone.
Pay equity has also been at the center of many EEOC claims as noted above. In response, states and cities have enacted their own bans on salary history requirements when hiring or screening applicants.
With Generation Z getting older, age discrimination claims are prompting litigation and legislation in response. Before the end of 2021, the House of Representatives passed the Protect Older Job Applicants Act so that Americans could bring forth EEOC claims under the Age Discrimination in Employment Act (ADEA).
Here on the VeriFirst blog, our readers and clients can expect more posts about how to prevent hiring discrimination, how to hire from a more diverse applicant pool, and the tools needed to reduce EEOC non-compliance. We hope this information helps employers to create a workplace that's fair and equitable to all.