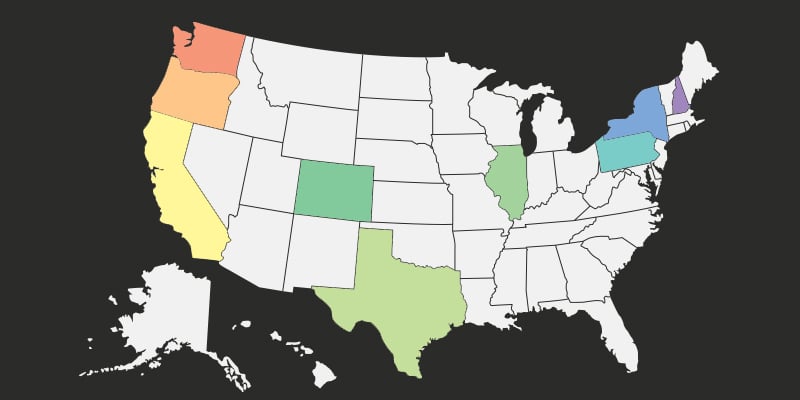 It can be challenging for employers to remain in compliance with federal and state laws when hiring or employing individuals. With the start of a new year, we'd like to highlight some of the state employment laws that will take effect or are being considered. This is not an exhaustive list but an illustration of new legislation trends and how employers in various states may be affected in 2022. Please use these examples to stay informed of employment laws that impact your hiring processes or workplace policies.
New Laws in These States Affect Employers in 2022.
California
In response to the #MeToo movement, California's "Silenced No More" Act took effect on January 1, 2022. The law prohibits employers from issuing non-disclosure agreements (NDAs) during settlements for workplace discrimination, retaliation, and harassment based on sex, race, religion, disability, and other characteristics protected under the Fair Employment and Housing Act. Employers are also prohibited from requiring employees to sign agreements that deny those employees the right to report any acts of discrimination or harassment.
See also: Employers, You Can Make the Workplace Safe from Sexual Harassment
Colorado
The Healthy Families and Workplaces Act now requires all Colorado employees to pay one hour of sick leave per 30 hours worked, up to 48 hours. The employee may use their sick leave for physical or mental illness, care of family members, or if their workplace has closed due to a public health emergency and they are absent from work.
Colorado currently has vaccine and mask requirements that remain in place as of this writing and the public health emergency was extended through April 16, 2022. The emergency order requires employers to provide 80 hours of COVID pay until the order runs out.
Illinois
Juneteenth is now considered a holiday in Illinois. June 19 will be recognized as National Freedom Day to commemorate the end of slavery in the United States in 1865. Illinois became the 47th state to recognize the day as a paid state holiday for state and public education workers.
In June of 2021, Juneteenth was officially recognized as the 12th federal holiday for federal employees.
New Hampshire
A new bill has been introduced to mandate the use of E-Verify for all businesses in New Hampshire. While the program is optional at the moment, some states have made it mandatory to reduce the risk of hiring undocumented employees.
New York
New York City: As of May 15, 2022, most New York City employers will be required to post the minimum and maximum salaries in the descriptions of job listings, promotions and transfers. The requirement is for any employer of more than four people and includes independent contractors in that count.
Oregon
The state has joined other states in adopting a law that prohibits employers from discrimination based on physical characteristics associated with race, including hairstyles and textures. The CROWN Act amends the Oregon Equality Act and prohibits workplace dress codes that disproportionately impact those of a "protected class."
Pennsylvania
Philadelphia: A new law that took effect on January 1 bans employers from pre-employment drug testing of marijuana. Applicants looking for jobs in law enforcement, working with vulnerable populations, or those that require driving can still be tested for marijuana and other drugs.
Texas
Houston: Harris County has adopted a ban on criminal history questions on job applications for most county departments. The employers can still run a criminal background check, but only after a conditional offer of employment has been made.
Washington
Washington state is considering a bill that restricts employers from denying employment or terminating employees if they test positive for marijuana. The bill was introduced in response to the legalization of recreational use of the drug.
Other 2022 Employment Laws to Consider
Other laws that are important to employers include:
As employers adjust to new legislation, they're also grappling with employee turnover and recruiting in a tight labor market. At VeriFirst Background Screening, we're transparent on our background check costs and turnaround time so recruiters and hiring managers know what to expect. Reach out to us and let us help make your hiring safer and more efficient.