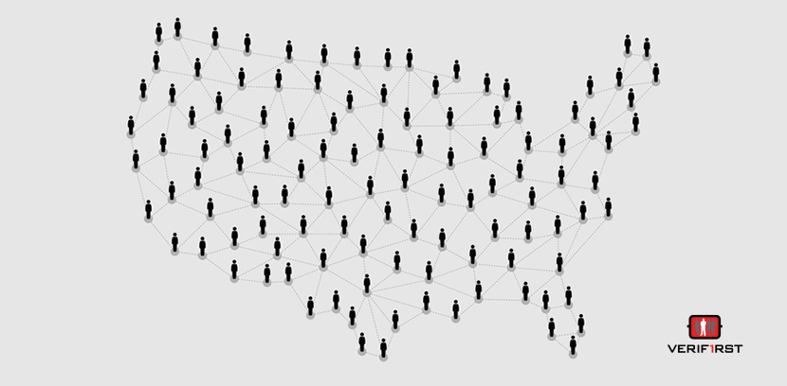 With the new year, many laws that were passed in the previous year become active. For employers, these new laws may require big changes to employment manuals, hiring documents, or important parts of the hiring process. To help make things easier, we've done some research and compiled a list of new state laws that went into effect on January 1 and others to expect this year. This information may not be completely comprehensive, for instance, not all wage laws are covered, so employers must still be aware of integral legislation in their state or local community.
Here are the hiring and state employment laws going into effect this year...
List of State Employment Laws for 2018

1. California Employment Laws
Employers must be aware of these new hiring laws that went into effect earlier this month. If it hasn't been done already, any references to criminal history or salary history should be removed from employment applications.
New legislation for California employers:
Inquiries about previous salary history are prohibited. Employers are also not allowed to disclose salary information about a previous employee without written permission.
Employers may not consent ICE access to employee immigration records, unless federal law requires access.
Ban the box laws have been extended statewide to employers with 5 or more employees. Inquiries about criminal history may only be after a conditional offer of employment.

An individual assessment must be used to determine if the criminal history will affect the job.

Discrimination against military personnel, when hiring or employing, is prohibited.
Discrimination or retaliation against employees can be investigated, even without a compliant, by the Division of Labor Standards Enforcement (DLSE).
Employers with 5 or more employees must post notice about transgender rights. If 50 or more employees, training must be provided to address harassment based on gender identity, sexual expression, and gender expression.
With the legalization of the recreational use of marijuana going into effect in January, employers can still test and fire employees if they have a zero-tolerance drug use policy in the workplace.
See also: What Employers Need to Know About Marijuana Legalization
2. Delaware Employment Laws
Delaware also passed a law prohibiting the use of previous salary history on employment applications. The legislation was passed to address "the wage gap between men and women". The law went into effect on December 14, 2017 and prohibits employers from inquiring about an applicant's previous salary history. The applicant may provide the information voluntarily and the employer may verify the information only after the offer has been made and accepted.
3. Illinois Employment Laws
Illinois passed the Genetic Information Privacy Act (GIPA) prohibiting employers from discrimination against employees who refuse to disclose information about their genetic history. The Genetic Information Nondiscrimination Act (GINA) already applied to employers with 15 + employees at the federal level. Illinois' state legislation applies to all employers within the state. Genetic information can be used to determine an employee's long term health and employees can refuse to disclose that information and refuse to participate in a program that requires the information.
4. Maine Employment Laws
As of November 2017, Maine has enacted new employer requirements related to workplace sexual harassment training. Employers must post easily accessible information about sexual harassment in the workplace including examples and how to lodge a complaint. Employers with 15 or more employees must also provide education and training to new employees within the first year of employment.
The minimum wage for Maine has also been raised to $10.00 per hour as of January 1, 2018.
The implementation of Maine's Marijuana Legalization Act has been delayed until February 1, 2018.
5. Massachusetts Employment Laws
Massachusetts has passed its own salary and salary history laws that are applicable starting in 2018. The Equal Pay Act, which goes into effect on July 1, 2018, prohibits employer wage discrimination for comparable work based on gender. Employers are also prohibited from inquiring about salary history of a prospective employee nor are employers allowed to restrict employees from discussing salary information.
The Massachusetts Pregnant Workers Fairness Act will also take effect on April 1, 2018. The law extends protections and accommodations to pregnant and breastfeeding mothers.
6. Nevada Employment Laws
Nevada's Assembly Bill 76 went into effect on January 1st of this year. Under the existing law, the Central Repository for Nevada Records of Criminal History is responsible for the collection and maintenance of criminal history. The new bill specifies certain biometric identifiers collected, allows the Central Repository to charge a fee, makes new clarifications regarding background checks on volunteers, removes some provisions regarding the collection of children delinquent information, and other changes relating to background checks on those who work with children and the elderly.
A new Ban the Box law also takes effect on January 1 for public employers in Nevada. The law specifies that the criminal history of an applicant can only be considered after the final interview, after the conditional offer of employment, or the applicant has been certified by human resources. An individual assessment must be used to determine if the criminal history will affect the job.
See also: Assessing Criminal Records in Employment Decisions
Nevada also now requires employees to allow leave up to 160 hours per year to employees who are victims of domestic abuse or whose family members are victims.
7. New York Employment Laws
New York City's salary history ban actually took effect on October 31, 2017 with an amendment to its New York City Human Rights Law. Like other salary history bans, employers are not allowed to inquire about an applicant's previous or current salary. Other laws include:
8. Oregon Employment Laws
The state of Oregon has amended its privacy law with regards to Social Security Numbers. When employers obtain information from applicants, they must be aware of federal and state legislation with regards to storage and disposal of that personal data. The new law that went into effect on January 1 provides more information on disposal of materials that include social security numbers.
Oregon also now prohibits employers from asking employees to falsify documents related to hours worked or compensation received.
9. Vermont Employment Laws
Vermont has taken a stance against employers requesting information on their employees' social media accounts with its new Social Media Privacy Law. Employers may not require, request, nor coerce an employee to:
turn over any of their social media account information,
access their social media account within the presence of their employer,
offer any information from their social media accounts,
change account access so the employer or other third parties can obtain access,
add the employer or anyone to their contacts lists in their social media accounts.
See also: Can You Include Social Media in Background Checks?
Employers must also provide reasonable accommodation to an employee's pregnancy with the application of the House Bill 136.
As stated earlier, this information is not fully comprehensive so employers should still investigate any pending employment or labor laws in their state or local area.
---
As a professional background screening company, VeriFirst does our best to stay abreast of legislation that affects hiring and screening. We can answer questions to the best of our knowledge and help guide your business through the screening process. Find out more by contacting us or requesting a free personalized quote.
Topics: Human Resources, Hiring and Recruiting, Employment Law