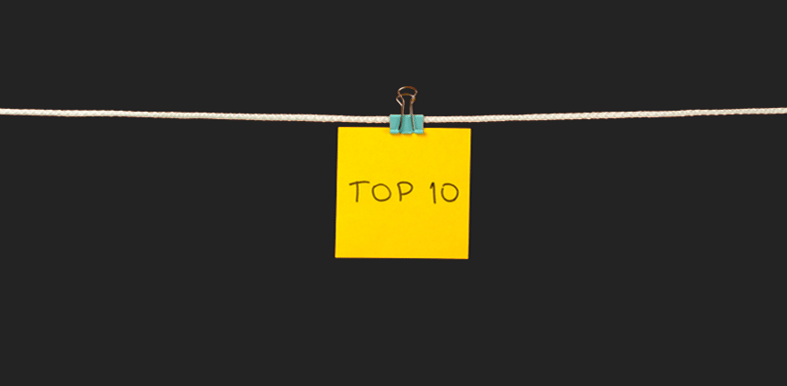 With only a few days left of the year, we are looking back to find trends or ideas for posts for the next year. Previous lists from 2014, 2015, and 2016 have helped to guide the direction of this blog to ensure we're providing the necessary information to keep employers and HR professionals informed. Please comment below if you have any topics where we need to take a deeper dive. Our goal is to be a trusted resource to our readers.
What were the top hiring and background check blog posts for 2017?
Top 10 Background Check Blog Posts
---

#10: How to Conduct Compliant Employee Background Checks On New Hires
We've written many posts on FCRA compliance and background checks. For simplicity, we compiled an easy-to-follow guide to conducting screening while staying compliant. The guide offers many tips along the way to save money and create efficiencies in the hiring process.
#9: What Recruiters Want to Know About Background Checks
Recruiters want to hire the best person and do it quickly. If background checks are part of the recruiting and hiring process, recruiters want to know how to screen quickly and which background checks are necessary. Screening must be used to weed out fraudulent resumes, illegal immigrants, and criminals that could cause harm to the company or its resources. This post explains how to do this and remain compliant.
#8: Awesome Interview? Know when to Extend the Job Offer and When to Conduct the Background Check
SHRM reports that the hiring process now takes longer than ever so timing is important when hiring a new employee. With recruiters and hiring managers afraid their favorite job candidate will take another position, the job offer can be extended pending the results of a background check. The post includes other examples of background check timing during the hiring process and how employers can stay FCRA compliant.
#7: Easy and Affordable Background Checks
If there is a running theme to this year's list, it's that hiring managers want the best bang for the buck when it comes to background checks. Efficiency, timeliness, ease of use, and affordability are all important when screening new hires. This post offers our best and simplest tips for accessible background checks when hiring or screening employees.

#6: How to Get the Best Background Checks for Small Business?
Because small businesses may not hire as many employees as enterprise companies, they may not have established consistent hiring practices. Inconsistencies may also mean small businesses are paying more for background checks than necessary. To get the best background checks for small or growing businesses, follow the best practices in this blog post.
#5: What's the Difference Between State and Federal FCRA Laws?
The EEOC has experienced an uptick in employers being taken to court for non-compliance to federal FCRA regulations. The challenge to employers is that some states have passed their own FCRA laws. This post explores why states have their own laws and which FCRA laws are applicable when hiring.
#4: Can Employers Ask About Salary History?
With California passing a law restricting the request of salary history when hiring new employees, we looked deeper into why salary history requests would be banned. Some salary inquiries also affect criminal background checks. HR professionals can lean on professional background check companies to help navigate the changing restrictions during the screening process.
#3: Challenges with Employment Verification Services
Employers expect to be able to verify certain information about new hires during the employment verification portion of a background check. Due to resume lies and fraud, verifying employment is part of the process of ensuring at least part of the candidate's background is accurate. This post highlights the limitations and challenges of verifying employment of a job candidate, including how it can slow down the hiring process.
#2: What is included in a Background Check for Employment?
Requesting a background check is one thing, reading it is another thing entirely. Because some hiring managers may be unsure what to look for on an employment background check, this post includes a graphic and more detailed explanation. Consumer reporting agencies (CRA's) or professional screening companies must adhere to the standards of the Fair Credit Reporting Act so this post should be helpful no matter who ran the background check.
#1: Slow Turnaround Time for a Background Check: What Gives?
When hiring managers are eager for their new hire to start, waiting on a slow background check can seem like forever. Why do background checks take so much time? This post offers some helpful hints about which screens take longer and why. Also, when you're ready to on board your new hire, try these helpful tips to save time and money on background checks.
We learned this year that some states wish to further the cause of banning the criminal background question on hiring applications. As more employers are taken to court over FCRA violations, we will also continue encouraging compliance while looking for ways to create ease in the screening process.
Thank you for reading and subscribing to our blog. Stay tuned for more in 2018. Happy New Year!
Topics: Employment Background Screening, Hiring and Recruiting