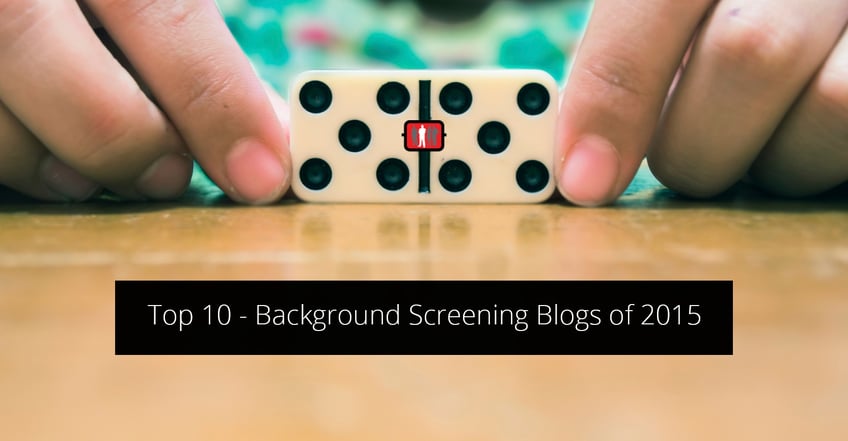 With 2016 looming around the corner (already?!), it is time to round up our annual list of VeriFirst's top background screening and compliance blogs of 2015. Much like the 2014 year end post, we'll be counting down to the number one most popular post. Dave Letterman may be off the air but his style of top 10 lists live on. Here we go!
VeriFirst's Top 10 Background Screening Blogs of 2015


If you believe you've discovered the perfect job applicant but they don't pass their background check, do you retract the job offer? We've documented 5 steps in the decision making process that protects both your business and the applicant's rights.
It's tempting to run a "quick background check" over the internet, especially if a hiring decision must be made quickly. You'll find information fast - but can it be trusted? We list out the pros and cons of searching internet databases and offer our professional recommendations.
Hiring employees for a financial institution requires a different level of background screening than other organizations. With credit unions also being non-profits, we've put together a tiered-process and recommendations of the types of screens that would assist with hiring the most well-suited employees for the job, without the high cost.
FCRA and EEOC regulations are changing on a regular basis and businesses must have a well-documented hiring policy to stay safe from litigation. As with our other helpful templates, we've created a sample background check policy to ensure that organizations are aware of applicant rights when hiring.
Just because an employee is temporary, it doesn't mean that you shouldn't know their background. In this updated post from last year, we dive deeper into the potential threats of hiring a temporary employee without screening them first.
In our blogs, we not only hope to inform about the necessity of background screening, we also strive to educate businesses on how to stay compliant - and therefore out of a courtroom. Retention of HR records and other hiring forms is dictated by many different federal and state regulations. Although a complex topic, in this post we explain many of the basic forms and how long they should be retained.
One of the most common questions we hear is about screening current employees. Current employees may be resistant to background checks, especially if they have been employed for a period of time. Depending on their job, job performance and their consent to a pre-employment background check, this process can be a challenge for HR managers.
What do hiring managers look for when they examine an applicant's social media? Can you retract a job offer if the applicant has posted unsightly pictures to their Twitter profile? As with any adverse action, there are steps that must be taken.
Pennsylvania passed an act stating that anyone with access to children must pass a background check. This act was a hot topic this year with many non-profits feeling the weight of the cost of running background checks. As other states consider these regulations, this post should offer some clarity.
Can an applicant beat a drug test? What's an employer to do if they find that an applicant has tested positive? Some employers skip pre-employment drug testing due to more paperwork and allocated time needed during the hiring process. In this post, we detail what to screen for and offer an alternative to more paperwork.
"But wait, there's more!"
As an added bonus, here's our most popular blog post of all time:
Thanks again to all of our dedicated blog readers for a wonderful 2015. We hope the information we provide is helpful. In 2016, we will continue to provide quality content to help with hiring decisions and keeping your business compliant. As always, if you have any questions or need assistance with your hiring needs, contact VeriFirst.
Topics: Employment Background Screening, FCRA Compliance, Hiring and Recruiting