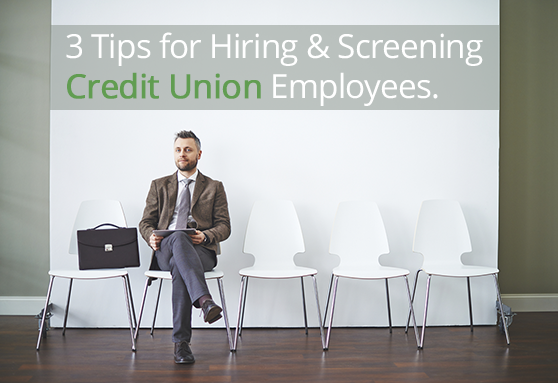 Credit unions, much like any financial institution, must be sure to hire highly qualified, well screened employees. Because the position requires a level of trust and security, a background check is necessary during the credit union hiring process. A credit report may be part of the background check but there are other things to consider when hiring the right person for the job.
Here are three tips for hiring and screening your credit union employees:

Recruitment
Recruiting top notch talent can be a challenge in any industry. Compensation and benefits are especially competitive in today's market. Many credit unions offer perks and bonus compensation such as member products, tuition reimbursement and retirement plans. The interview process for credit unions may go beyond the application to other assessments including personality tests and the ability to use certain types of software. Make sure you are aware of compensation packages and hiring practices in your geographic area so that you can be competitive.
After passing the interview and assessments, a background check is required. VeriFirst works directly with credit unions and offers a simple "click to email your applicant" feature that sends an invite to the applicant to complete an online background check consent form. This feature allows the candidate to complete their own personal details to help expedite the screening process.
Background Screening
Background screening for financial services can be a costly process. Running a criminal background check and credit check on a job candidate only scrapes the surface of information a credit union needs to hire top-notch talent. If one background check fails, why continue to run the slew of other reports and spend money on a candidate that will not ultimately be hired?
At VeriFirst, we help credit unions manage their screening process and budget by offering:
Electronic Applicant Consent processing
A tiered screening process - if the initial background check fails, no need to proceed to the next screen
Instant screens of candidates against the Department of Treasury's "Office of Foreign Asset Control" (OFAC) financial sanctions database
Discounted access to Employee Credit Reports for pre-employment evaluation
National, Federal, Statewide, County and Civil criminal record search ability
FCRA compliant criminal record filtering
E-Verify screening from a certified E-Verify partner
Electronic Drug Test Ordering
Access to a complete HR compliance library for the latest background check forms and regulations.
We also offer discounted screening packages just for credit unions.
Hiring Decision
When making a hiring decision, credit unions as well as other businesses must follow the regulations set by the Fair Credit Reporting Act (FCRA). A candidate must be notified in writing if the background checks revealed any information that lead to the denial of employment. The pre-employment forms and documents must also be managed and stored via federal regulation and in the case of litigation.
VeriFirst can:
Send Pre-adverse and Adverse action notices to the applicant's home or email via VeriFirst.com
Store and manage electronic forms and documents free
Assist with federal compliance and hiring policies with our FCRA certified staff
Read more: Adverse Action Notice - Common Compliance Questions
At VeriFirst, our mission is to stay current with federal compliance and regulations so that we can provide our clients with peace of mind. Credit unions are non-profits, in many cases, and we're able to build a platform that's compliant, easy to use and at a great price. Plus our FCRA certified staff is available to assist so that hiring your next employee becomes a seamless, fair and efficient process for all involved.
Click today for a free discounted quote for your credit union background checks.