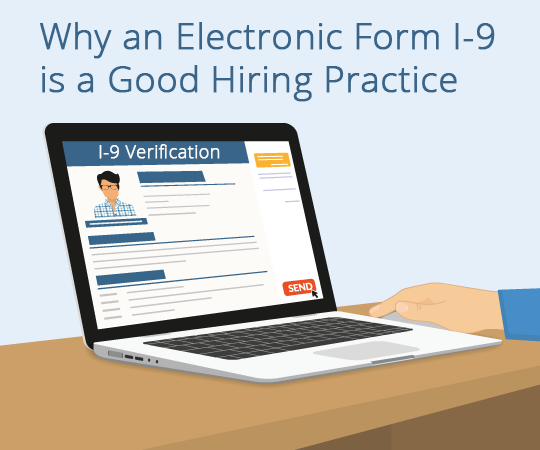 When a new employee is hired, they must complete certain paperwork to verify that they are legally able and eligible to work in the United States.
With immigration policies moving to the forefront of political agendas, more companies are being subjected to immigration audits. As a best practice, maintaining proper documentation is crucial to keeping auditors from catching your human resources department off guard.
What is an I-9?
Form I-9 is the United States Citizenship and Immigration form for employment eligibility. The form was documented in the Immigration Reform and Control Act of 1986, which specified that all newly hired employees must present valid documentation of their identity and authorization to work in the U.S. The I-9, also referred to as the Employment Eligibility Verification Form, is supplied by the federal government and is mandatory for every employee hired after November 6, 1986. Click here to find the I-9 form online.
Employees complete section 1 (or Employee section) of the form when they are hired. The employer completes section 2 (or Employer section) within 3 days of hire. The last page of the I-9 specifies the list of acceptable documentation to establish verification of identity and employment authorization. These acceptable documents include passports, drivers license, social security card and/or a combination of other forms of identification. These documents cannot be expired.
The I-9 also specifies that employers must update or reverify certain documents prior to their expiration date, especially in the case of international employees or a break in employment that lasts longer than a year.
The employer is responsible that a Form I-9 is filled out correctly and retained for every employee for 3 years after the hire date or one year after employment ends.
Electronic I-9 & E-Verify
In October 2004, new legislation created the availability of an electronic I-9. Since more organizations had access to the internet and web-based programs, the U.S. Citizenship and Immigrations Services (USCIS) offered online reporting, enrollment and a 23 hour/day web interface. In 2006, the USCIS allowed employers to build software that interfaced with the USCIS database. The following year, the program was renamed E-Verify.
E-Verify allows enrolled employers or designated agents to check employment eligibility directly with the immigration database. Because of the new online verification, data entry errors and mismatched records dropped by 30%1. Since 2001, E-Verify and its initial pilot program have been used in nearly 24 million cases1.
The Dreaded Form I-9 Inspection Audit
The term "audit" strikes fear in any business owner's mind. A federal immigration auditor is required to give only 3 business days notice to an employer before showing up at your door. Are you ready?
If you've done your due diligence, you can be. Have your human resources team perform their own random and surprise internal audits to make sure there is proper documentation on all employees. Make sure all forms are completed correctly and retained for the correct amount of time.
Using an electronic I-9 or E-Verify is a great hiring practice to take the pressure off the dreaded audit. An electronic system creates an audit trail that is easily accessible. The system verifies the data, the signature and that the forms are completely correct. E-Verify conveniently offers the ability to pull reports that may be requested by an auditor. With the electronic I-9 data and reporting available to you, your audit could be over in a matter of hours.
Being a proactive employer means preparing for anything. Your human resources department is doing its best to create a positive atmosphere as the initial face of your company. Having secure and convenient hiring practices lessens the probability of non-compliance to the continually updated federal and state regulations that affect HR. E-Verify and an electronic I-9 makes employment eligibility easier during the hiring process. Why not take advantage of it?
To learn how VeriFirst can help your business manage electronic and paper Form I-9, visit our ComplianceCloud for more information about our employment eligibility and E-Verify programs.
1http://www.uscis.gov/e-verify/about-program/history-and-milestones