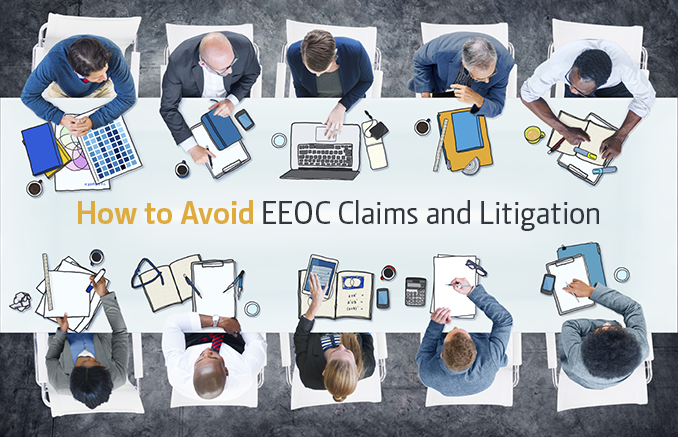 With the recent release of fiscal year enforcement and litigation data from the EEOC for 2014, it is clear that too many companies are involved with EEOC claims and litigations. The financial costs of this litigation are two-fold: the cost of the actual lawsuit and the cost of paying damages to the employee. These costs still don't factor in the cost to your human resources or legal department in terms of employee morale and job satisfaction. The best strategy for any business is to prevent the claim altogether.
What does the EEOC do?
The EEOC or Equal Employment Opportunity Commission enforces laws against workplace discrimination. With the EEOC in place, a person cannot be terminated, denied a job, promotion or wages due to:
Race
Color
Religion
Gender (including pregnancy)
National origin
Age (40 and over)
Disability
Genetic information
The laws apply to hiring, termination, promotion, harassment, training, pay and benefits. If an employee or job candidate files a charge of discrimination with the EEOC, they will assess the allegations and try to settle the charge. If the EEOC is unable to settle a charge, they can file a lawsuit to protect the rights of the employee, job candidate or the public at large.
How to Prevent Discrimination of Current Employees
The EEOC offers information, training and guidance to keep HR managers abreast of EEO laws. Other managers, at all levels of an organization, should be trained on and held accountable for an awareness of discrimination in their workplace. Open communication and dispute resolution is a powerful way to minimize misunderstanding that could be attributed to discrimination.
A strong anti-harassment policy should also be implemented and every employee in the organization should be trained and aware of it, including concise examples. The well-prepared human resources department will have a clear complaint process that includes confidentiality and an impartial investigation. Every employee should have the security of knowing that their employer will take proper action if a harassment has occurred and that no retaliation will take place.
The promotion, wages, benefits and termination of an employee must also be fair and non-discriminatory. This requires diligent monitoring of promotions, performance reviews and other employee compensation practices for patterns of discrimination. Every employee must also have access to training programs and other opportunities to advance in the workplace.
How to Prevent Discrimination of Job Candidates
One of the best ways to not discriminate when hiring employees is to have a compliant hiring policy. This entails considering a diversified pool of candidates and objective qualification standards for each position. It also means being fair when conducting background screenings and other tests before consideration of a job candidate. The selection criteria must be consistent for every applicant, including those with criminal backgrounds. If the background check hiring policy is fair and consistent, and the Fair Credit Reporting Act (FCRA) regulations are being followed, then denying a job candidate based on the data obtained in a background screening may not be discriminatory.
Free Template: Background Screening Decision Matrix
Remember, a hiring policy should be reexamined and reviewed fairly often if your human resources department is hiring consistently. Monitoring all hiring practices for patterns of discrimination is a good way to avoid a potential EEOC or FCRA claim. Staying fair and consistent with all employees in terms of hiring, firing, wages, benefits and promotions will help keep your employees happy and your HR department out of court.
Topics: Employment Background Screening, Hiring and Recruiting