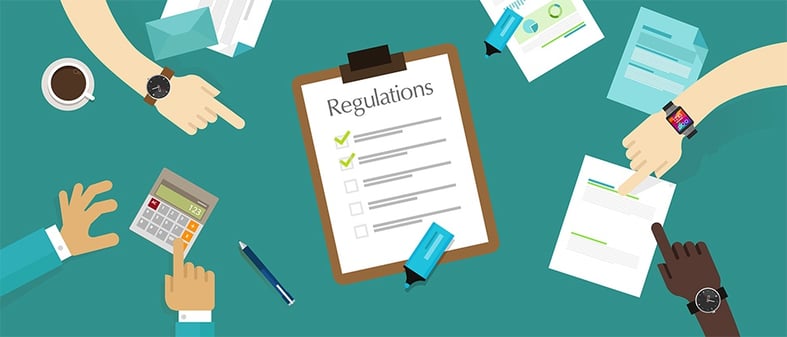 In order to remain compliant with federal regulations, your human resources department must be well-acquainted with the FCRA (Fair Credit Reporting Act) and the EEOC (Equal Employment Opportunity Commission). The FCRA offers detailed instructions on the information an employer is allowed to obtain on a candidate, how, when and why the information is allowed to be gathered and the applicant's notification during the process. The EEOC ensures that an applicant is not discriminated against based on their race, color, national origin, sex, or religion; disability; genetic information and age. With the threat of litigation affecting so many hiring policies, let us help you create a human resources guide to a compliant background check policy.
Before the Background Check
When a candidate applies for a position, it may seem tempting to make assumptions based on their name, gender, race or age. Remember, however, that it is illegal to do a background check based on that assumption alone. A background screening policy must equally apply to all applicants, regardless of traits, assumptions or history.
If an applicant is being considered for the job, they must also give written permission to consent to a background check. This consent form must be separate from the application and clearly identified as an authorization for a background check including which background checks will be run. The applicant must also be notified that the information may be used in making the decision for employment.
Running the Background Check
Background checks can be run by a select third party vendor. The vendor should also comply with the FTC (Federal Trade Commision) and FCRA regulations when accepting the request. To see a sample of the typical costs of background checks, read this post to know what you should pay for certain background screens. Unsure of what screens to run on your applicants? Learn which screens should be applied based on certain job duties by downloading this free guide.
Use of Background Check Information
To stay within EEOC guidelines, the hiring decision process, based on the information acquired during the background check, should be the same for every applicant. The standard policy should apply to every job candidate regardless of ace, national origin, color, sex, religion, disability, genetic information or age. Also keep in mind that your hiring policy may need to be re-examined if unique situations arise.
If the background check information solicits a no-hire, be aware of the FCRA regulations around adverse action notifications. The applicant must be made aware of the adverse action based on the background screen results. The applicant also has the right to dispute the accuracy of the information gathered.
After the Hiring Decision
After the applicant has been hired or not-hired, the background check information must still be stored and/or disposed of properly. Depending on the company and position, its recommended that all personnel and employment records be kept at a minimum of one year, whether the applicant was hired or not. Because of the potential for litigation and various state regulations, employers should keep records for 3 years as a best practice.
Once the minimum time has been reached, the background checks and other personell records can be disposed securely. This includes shredding, burning or pulverizing the documents. To learn more about how to properly dispose of these documents, read this document on the Disposal of Consumer Reports.
Keeping your Human Resources department aware of federal regulations is of great benefit to your business. A compliant background check policy will keep your hiring managers out of a courtroom and ensure that you are hiring quality employees.