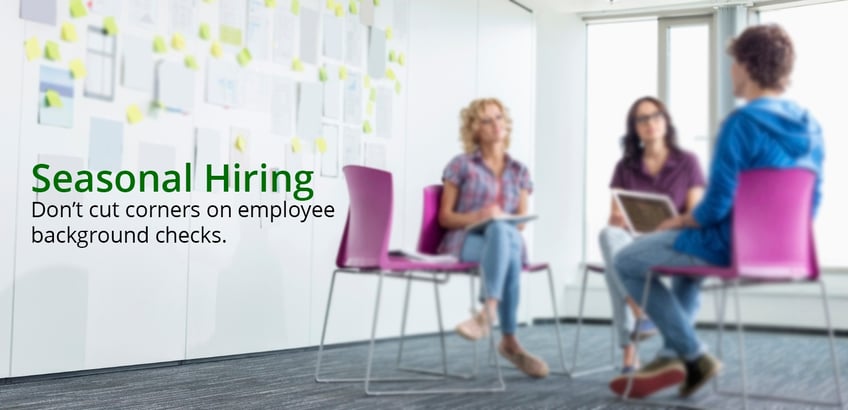 According to a 2015 Career Builder forecast, 33% of U.S. employers plan to hire seasonal staff this year and more than half of retailers plan to hire seasonal employees. All of those numbers are up over 2014.
So why do background checks on seasonal employees?
57% of employers expect to transition some seasonal staff into full-time employees, up from 42% last year.
Some seasonal hires may prove themselves to be excellent employees. At the same time, seasonal hiring can be risky to some businesses if there are a few bad apples that ruin the holiday spirit. If you are doing the hiring, do not skirt around background checks. Here's why:
Employee Theft
According to an annual retail theft survey, over a million shoplifters and dishonest employees were caught in 2014. In fact, employees steal over 6 times more than shoplifters. Hiring employees, especially in a retail environment, without a criminal background check could be at a big loss for your bottom line. If an employee will be working with money, credit or any other financial transactions, it is a good idea to check their background so that there will be no further crimes or theft against your business.
Employee Fraud
Dealing with fraud during any time can be damaging to a business. During the busy holiday season, fraud is definitely not something else to throw into the mix. A manager can be especially distracted with training new hires and keeping inventory up to date. An employee committing fraud may not be detected immediately. Once a customer is harmed in any way - either financially or physically - the company can be held liable for negligent hiring. If that employee has been screened for previous fraudulent actions, your manager-on-duty, fellow employees and your customers, will have some peace of mind.
Hiring Red Flags
Some hiring managers may skimp on checking up on really great personalities if they are only being hired temporarily. However if they are promoted to full time status without the typical screening process, your charming seasonal greeter may have found a way around certain policies and procedures that you'd subject to any other employee. Hiring based on a charming personality or good looks could be at the expense of your business. In the same annual retail theft survey, almost 20% of retail job applications revealed "high risk" applicants based on admissions of past wrong behavior. Make sure the employee is not only good in person but on paper too.
See Also: Hiring Red Flags
High Volume Hiring
With the threat of lost revenue, lost product, or the threat to current employees and customers, it is imperative employers do their homework before hiring seasonal staff. A stressful holiday season, with late hours and demanding customers, can be less stressful if employees have been properly vetted. So why would an employer cut corners on background checks?
With the volume of quick seasonal hiring, many businesses may choose to forego the necessity of background screening so they can hire faster. Also, some background screening providers may require employers pay for a certain number of screenings up front.
VeriFirst, a trusted leader in pre-employment screening, allows employers to pay only for what is needed, provides efficient turnaround and offers special discounts for a high volume of screenings.
Request a personalized quote below and we'll get back to you within the day.
Editor's Note: This post was originally published in November of 2014, and has been updated to include more relevant content and statistics.