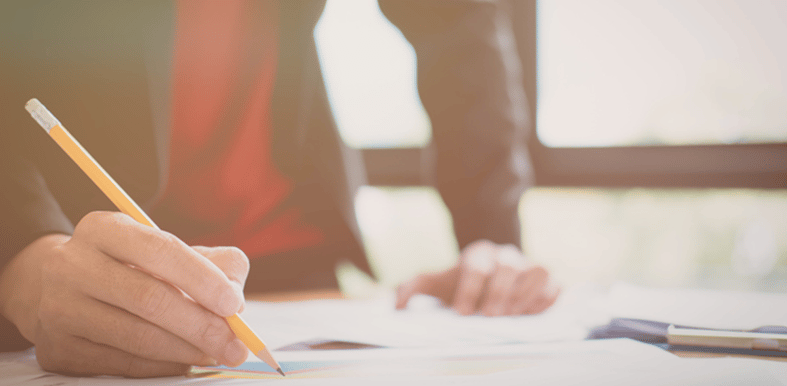 Background checks are important for employers to avoid claims of negligent hiring, reduce employee turnover, and create an overall safe work environment. Screening best practices will also reduce cost, reduce the risk of non-compliance, and create consistency in hiring processes. Employers who use background checks to their advantage will be ready for any investigations by regulatory agencies such as the EEOC and the FTC enforcement of the Fair Credit Reporting Act.
Employers are wise to follow this...
List of Top Background Check Practices


Always Get Consent to a Background Check
Whether screening applicants or current employees, employers must always obtain consent and authorization to run background checks. The consent form must be a separate, clear and concise document that informs the signer that:
The employer is obtaining a background check
Which screens will be run
The information will be used by the employer for the hiring decision
Their rights under the FCRA
Know the Types of Background Checks
Not all background checks are necessary for every employee. Depending on the job and the timing of the hiring process, it may only be necessary to run a basic background check. A basic background check includes.
Identity verification
National Criminal Database Check
National Sex Offender Search
To reduce the cost of screening, hiring professionals may choose to run a basic background check initially and then run more job-specific screenings, like credit or driving records, later.
Reduce the Likelihood of Data Errors
Another way to reduce the cost and improve turnaround time is to have the applicant or employee enter their own data in an online portal to reduce risk of data errors. The more accurate the data, the more accurate the background check results will be. VeriFirst offers an applicant portal to help alleviate data errors and return background checks results quickly.
Use a Qualified and Compliant Screening Company
The best background check company will have FCRA-trained and certified staff to help with compliance concerns. Any questions regarding screening practices and other hiring best practices will be answered by their knowledgeable and experienced staff. A professional background check provider will also do the leg work required to obtain the most accurate results rather than relying on a database of potentially outdated information.
Avoid Discrimination and Hiring Bias
Employers must be aware of the potential for hiring bias. A best practice is to run background checks only after an offer of employment has been made. Fair chance laws such as "Ban the Box", the EEOC, and Title VII of the Civil Rights Act should all be familiar to hiring managers. Each candidate must be assessed fairly and be hired or not based on their abilities to perform the job. HR should also document the practices set forth to prevent discrimination when hiring or promoting within the organization.
Assess Criminal History
The EEOC and some states are requesting that employers carefully consider the use of criminal records during the hiring process. Arrests, in general, cannot be considered without a conviction. Be aware of the time that has passed since a criminal conviction. Assess the individual's criminal history and create a standardized decision matrix for the use of criminal records when hiring for certain positions.

Allow Dispute of Screening Information
After obtaining a background check, discuss any concerns of the results with the candidate through pre-adverse and adverse action procedures. Per their FCRA rights, the candidate will be allowed a certain amount of time to dispute any results that are false or inaccurate. Remember to assess any criminal records, thoroughly considering that the information may be a false positive, and allow your candidate to explain.
Properly Dispose of Background Check Report
Both the EEOC and FTC create processes for disposing of information. Remember that the information was obtained only because the candidate gave consent. Their personal information was only used for the "permissable purpose" of consideration of employment. Due to the sensitive nature of the information, it should be disposed of properly as to prevent it landing in the hands of someone who could cause harm to your candidate. The records can be kept for one or two years and then must be burned, shredded or otherwise pulverized.
A review of a candidate's resume or previous work history can be examined to determine patterns in behavior and workplace behavior. Resumes, while sometimes inflated, can also be reviewed and compared to background check results. These background check best practices will help employers to hire qualified candidates, increase the likelihood of a diverse workforce, and reduce the risk of courtroom battles due to negligent hiring and discrimination.
Download our HR Screening Kit for the tools you need to conduct efficient and FCRA compliant background checks.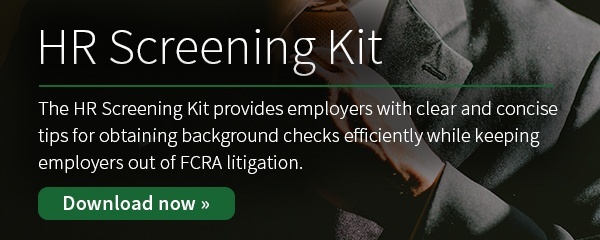 Topics: Human Resources, Employment Background Screening, Hiring and Recruiting