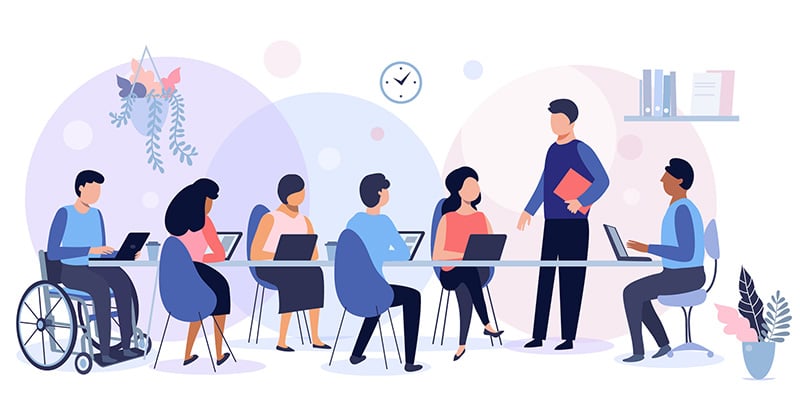 When organizational leaders push DEI (diversity, equity, inclusion) initiatives, it's important to start with recruiting and hiring. DEI gaps cause hiring bias simply by who's doing the hiring, and those gaps stall any progress to attract more diverse applicants. The shift to creating a DEI hiring process doesn't have to be a dramatic overhaul but can instead start with small steps toward a more comprehensive program.
Here are some examples of how employers are making the hiring process more inclusive.
Redact Personal Information from Resumes
Unconscious bias can happen in the 6 - 7 seconds that hiring managers typically spend reviewing a resume. Recruiters can make a snap judgment based on a name, with Black-sounding names less likely to get called into an interview, and white-sounding names receiving 50% more callbacks. At the same time, female-sounding names have also seen fewer callbacks, especially for executive roles. Redacting personal identifying information and only including experience and education allows resumes to be viewed objectively.
Leverage Internal Affinity Groups
Many businesses have affinity groups or employee resource groups (ERGs) that are organized based on shared characteristics or life experiences. By reaching out to these groups for feedback and promotion of job postings, hiring managers are more likely to develop inclusive job descriptions and discover an untapped talent pool. ERGs are also a positive step in retaining existing talent as diverse employees will feel more comfortable and accepted in their workplace.
See also: Does Your Hiring Process Include DEI?
Talk About Discrimination
If leadership wants to build a more inclusive workplace environment, then the hiring process needs to facilitate discussions about discrimination. By including language and conversations around racial bias, aging, gender and social issues on the company website, in job descriptions, in group interviews and during applicant onboarding, recruiting and hiring managers will naturally attract a more diverse talent pool. Using thoughtful language will reveal the leadership's true intention behind the DEI initiative and help employees feel safe.
Stay Compliant with EEOC Guidance
Diverse hiring practices can also include pre-employment background screening that meets EEOC compliance to reduce discrimination. The Equal Employment Opportunity Commission issues guidance against discrimination based on "race, color, religion, sex (including pregnancy, gender identity, and sexual orientation), national origin, disability, age (age 40 or older), or genetic information." They also help protect those who've been discriminated against because of previous arrests or criminal records.
VeriFirst Background Screening has nearly two decades of experience helping organizations with background checks and compliance. Download our EEOC Background Check Matrix to stay compliant with EEOC guidance or contact us for a free price quote.