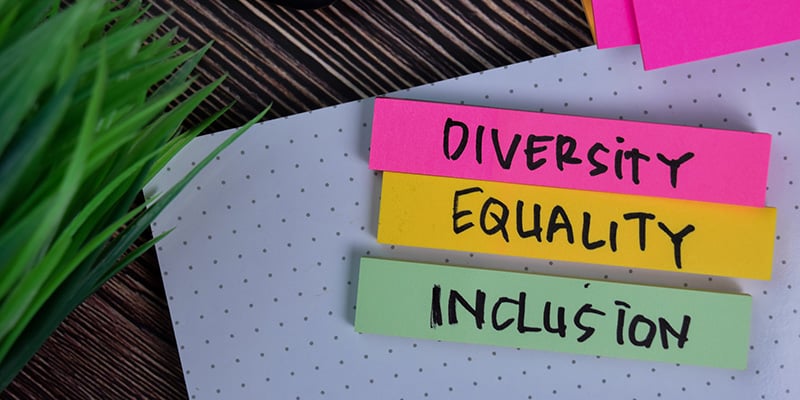 If your organization has been considering taking action to increase diversity, equity and inclusion (DEI), your hiring process is a great place to start. To create and support a more diverse workforce, your HR department can start with analyzing the current staff, who's doing the hiring and setting new goals to achieve. But first, your leadership and organization must be open to learning, willing to make changes and committed to the success of the strategy. Ready to begin? Ask your team these questions.
Does your hiring process include DEI?
Where are the DEI Gaps?
After committing to a DEI strategy, your organization needs to identify the areas that need to change. SHRM offers some sample survey questions and a downloadable template on their website as a great place to start. As you develop your program, you may survey other leaders within your company or take a random sampling from your employees.
Who are the Hiring Managers?
One of the first thing to consider when implementing a DEI strategy is who's doing the hiring. If all of your company hiring managers look alike or are of similar age and experience, it might be wise to start diversifying here. When leadership is more inclusive, the workforce is sure to follow.
See also: How HR can implement Diversity and Inclusion Policies
Where are they Hiring?
If your hiring management lacks diversity then their hiring channels may lack diversity as well. As we've mentioned before, unconscious bias and similarity attraction can inhibit a wider breadth of hiring resources. Look to other places to increase the likelihood of a more diverse candidate pool.
Do Job Descriptions Sound Inclusive?
Job descriptions can sound especially limiting if the language isn't gender-inclusive. Job descriptions should be written to invite someone to apply but many applicants will instead look for the first thing that disqualifies them. Learn more about how a single word can discourage an applicant in this article.
Are the Interview Questions Standard?
Another area where diverse candidates are excluded is the interview process. When every candidate is asked the same questions, then they can be evaluated more equally. Also, have every hiring manager keep their own feedback private until collecting all of the data for decision making. Read how Slack was able to hire more minority candidates by changing its candidate pipeline, job descriptions and interview process.
Is the Hiring Process Fair?
Fair hiring processes not only increase diversity and inclusion, they also minimize the risk that your company will be sued for hiring discrimination. Fair hiring processes can also include:
not inquiring about criminal history until after a job offer
not inquiring about salary history
following FCRA guidelines for adverse action and allowing the candidate to dispute incorrect data
As part of your organizational DEI initiative, get feedback on your hiring process, include DEI language on your website and publish results when meeting or exceeding your goals. When your company is associated with a diverse, equal and inclusive workforce, it's a win for everyone.