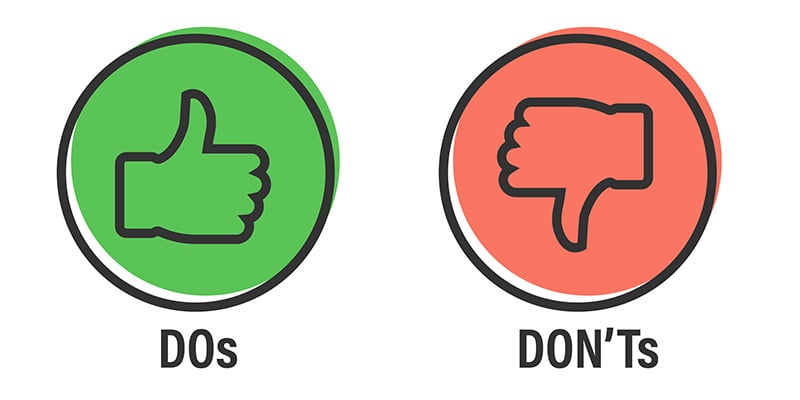 It's imperative that hiring managers do their research on candidates to protect their employers from negligent hiring claims. Background checks are an invaluable part of any hiring process that reduces that risk. Unfortunately, screening candidates incorrectly can also lead to the risk of litigation against employers. Follow these tips to minimize liability for your employer.
The Do's & Don't's of HR Background Check Compliance
Do: Get Consent on a Separate Form
The FCRA requires specific language on applicant consent forms for a background check. Extraneous language or checkboxes will immediately make the form non-compliant. The FCRA also requires that the form is a separate and standalone document from the employee application. Applicants must understand that they are providing consent to run a background check.
Don't: Run Every Background Check on a Candidate
Instead of selecting all the background checks available, select only the reports needed for the job. For instance, if the job doesn't include driving, the MVR or driver's license report isn't necessary. Choosing only the screens necessary saves time and money.
Do: Follow Fair Chance Hiring Laws
Ban the box and other second chance laws are being passed in many municipalities and states. Removing the "have you ever been convicted of a crime?" box from applications is becoming the norm across the country. Check in your area to ensure you're following any fair chance laws that apply to your hiring needs.
Don't: Deny Employment to Everyone with a Criminal Record
EEOC guidance requires that employers document the relativity of crimes to the jobs being hired. If the candidate has a conviction that was decades earlier, non-violent, or not relevant to the job description, they may still be eligible for the job. A background check decision matrix is helpful for documenting and following during the screening process.
Do: Choose an FCRA-Certified Screening Partner
A trusted and neutral third-party company must also comply with FCRA regulations. That means that they follow FCRA guidance and are willing to help your hiring managers to remain in compliance. Their staff, forms, and online portal will also be in or simplify compliance during background checks.
At VeriFirst, we've been screening for employers for nearly two decades. Our FCRA-certified staff works with your team to help HR adhere to FCRA and EEOC regulations. Contact us with any questions you have regarding compliance or request a free demo of our platform today.