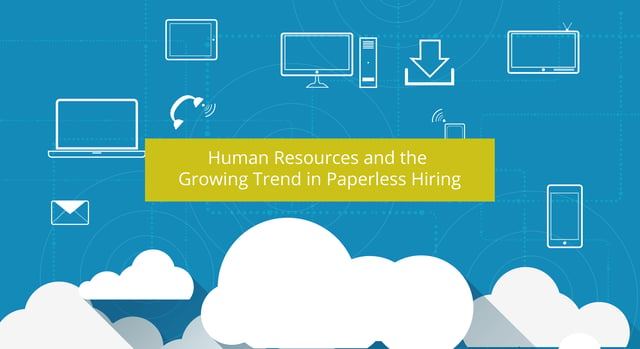 Human Resources has continually new and improved resources at its disposal. From recruiting to hiring, technology and updated processes have helped to catapult the growth of the electronic era. Going paperless offers digital storage and ease of accessibility but employers must also be mindful of regulations around digital storage and retention of documents.
With that in mind, the growing trend of paperless hiring offers a myriad of benefits to human resources departments.
Recruiting
Searching for and recruiting talent has a much broader reach with the use of internet searches. From LinkedIn, Monster and even Craigslist, recruiters can find potential new hires with the right keywords on job search sites. For job searchers, use of these job search sites and other outlets has encouraged their resumes to be creative and always up to date.
Recent statistics have shown a boon of remote workers being hired by more companies looking to recruit talent without geographical limits. This means that technology and electronic processes are even more attractive.
Job Applications
Job applications can be made available in electronic form, without the applicant even coming to the office. With the use of email, job portals or other online applications, many companies are taking advantage of cloud technology to store and share employee documentation. Standardized forms also allow for ease of readability among hiring managers so that a quick comparison between applicants is possible. With information being so readily accessible, employers must also bear in mind the security and data controls required to keep personal information from getting into the wrong hands.
See also: Human Resources Record Retention
Interviewing
With technology such as Skype and Google Hangouts, human resources and hiring managers can now go beyond the phone call and "meet" their candidate "in person". With significant decreases in overhead, employees working from remote locations save the company money. More money can be saved with remote interviews instead of flying in or paying moving expenses for a prospective employee to work in the local office.
Background Screening
While some hiring managers may look to do a quick background check to expedite the hiring of a job candidate, the database search may be misleading and deliver false information on your applicant. An accredited background screening company will offer a compliant and secure portal for use in your hiring process. With integrated access points, centralized data and standardized forms, this portal will offer access to everything from FCRA compliant applicant consent forms, background screening and electronic drug screening to final approval from the hiring manager. The data-entry is direct from the applicant, ensuring the information is correct and accurate.
The ease of use means that after the applicant has entered their information, human resources can click a few checkboxes and the background checks are returned with accuracy and efficiency. You can then submit pre-adverse action and adverse action notifications through the centralized portal, if needed, saving time, money and ensuring compliance.
Workforce Eligibility
Also included as part of a paperless hiring process is an electronic I-9 or E-Verify to verify workforce eligibility. In 2004, new legislation included the availability of an electronic I-9 to verify that job candidates are legally able and eligible to work in the United States. This technology evolved as an interface with the United States Citizenship and Immigration Services (USCIS) database called E-Verify. E-Verify allows designated agents or enrolled employers to check employment eligibility of citizens and immigrants and ensure the applicant is not on a terrorist watch list. A background screening portal will also offer direct access to check applicants with E-Verify.
Offer letters and Onboarding
Sending offer letters in the mail is so 1990's! Most employees today are receiving their job offers via email. Digital signatures also allow job candidates to quickly sign and return contracts and other on-boarding materials to human resources. Digital signatures are efficient, secure and compliant in most industries and are being used by most human resources managers today.
Increased productivity and efficiency are every 21st century human resources manager's dream and going paperless is a great start. With the right technology, the hiring process can be nearly fully electronic. Consider these tips when researching a third party background screening company or watch the video below to see how an electronic portal can assist in your efforts to go green with paperless hiring processes.