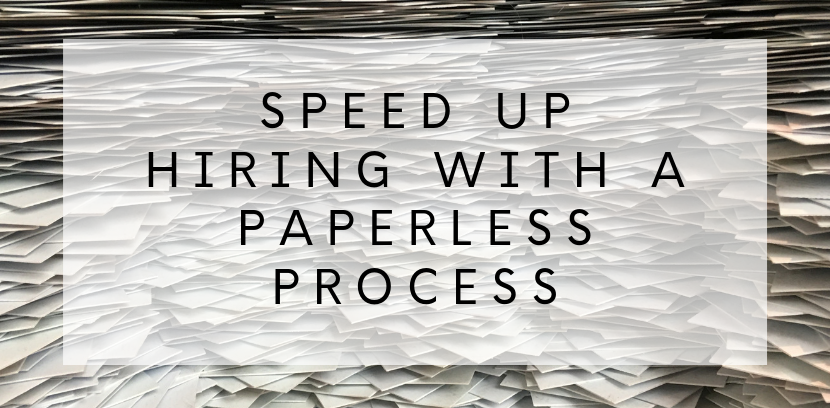 Feeling swamped by paperwork? As an HR professional, your desk is a bevy of resumes, applications, contracts and interview notes. You may even have some electronic or online tasks but the process isn't efficient or consistent. Going paperless not only saves trees but may also reduce the time and effort it takes to recruit and hire.
Here's how paperless hiring can speed up your recruiting, hiring and on boarding process.
Use an Applicant Tracking System
Also known as an ATS, an applicant tracking system is an online tool used to tracking applicants through all stages of the hiring process. The software handles all candidate and job information including job description, openings, resumes, emails and other notes throughout the process. An ATS integrates disparate systems into a single, efficient, paperless database that allows HR pros to:
Use a central location of all job openings
Post jobs and track job postings
Store resumes and use keyword searches to qualify candidates
Run reports
See also: Should My Business Use an Applicant Tracking System?
Use Electronic Signatures
Digital signatures or "e-signatures" are no longer a futuristic option but are, in fact, used by businesses and the federal government. Although the terms are used interchangeably, digital signature providers provide the technology used to secure electronic signatures through the use of an algorithm. This technology makes the signatures more authentic and unique to the signer than a regular written signature. Hiring managers can have candidates complete applications and other on boarding documents from anywhere, including remote locations, helping to automate a process that could otherwise slow things down.
Use Electronic Screening and E-Verify
Background checks are another part of the hiring process that becomes time-intensive and costly. Typically, the reason for the slowdown is due to data entry errors or incomplete information. An applicant also has to give consent and written authorization to a background check.
Using an automated applicant background consent platform (like this one) can speed up the process and also lower background check costs. With standardized forms, this system offers access to FCRA-compliant applicant consent forms, background screening and electronic drug screening to final approval from the hiring manager. The data is entered directly by the applicant, ensuring the information is correct and accurate. Using this platform allows hiring managers to take proper adverse action - including notification - from a single location. E-Verify is also directly accessed through the system so HR can capture workforce eligibility with the touch of a button.
Provide a fast and efficient candidate experience by going paperless. Your employees and the planet will be happier for it.