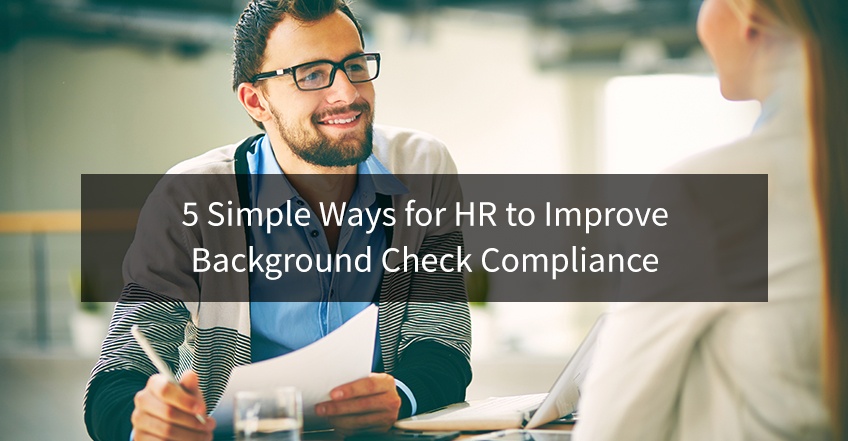 Considering the sheer amount of processes a human resources manager has to perform - from recruiting, interviewing, screening, hiring and more - staying compliant is important but often overlooked. Unfortunately, with FCRA legislation on the rise, HR must be aware of potential compliance challenges especially during the background check process.
Being aware and following these five simple tips will help human resources to improve background check compliance.
Federal FCRA: Disclose and Notify
Every background check must comply with the Federal Trade Commission's Fair Credit Reporting Act (FCRA). This federal legislation provides consumers with protection of their data, including privacy and accuracy.
A prospective or current employer is not allowed to run a background screening unless it is for employment purposes only (also referred to as "permissible purpose"). The employer must disclose, in a form separate from the application, that a background screening is necessary to employment. The applicant or employee must be notified of their rights under the FCRA and have a clear understanding of which background checks will be run.
Federal FCRA: Authorization
The applicant or employee must consent, in writing, before an employer is allowed to run a background check. The form must be signed and dated. The language of the consent form may state that the background check is only necessary for the hiring decision. Some other forms may consent that the employer can run a background check on the employee at any time during employment. The applicant must be made aware of the difference when authorizing a background check.
See also: How to Obtain Applicant Consent and Authorization to a Background Check
Federal FCRA: Adverse Action
After the background check, the employer must make the applicant aware of the results, especially as the results attribute to a no-hire decision, within 3 days of the report. The FCRA dictates the applicant be notified of a potential no-hire decision through written adverse action notices. The applicant should be notified, in writing, of the intent to deny employment, a copy of the screening report and the screening company that supplied the information. The applicant should be allotted time to review the report, contact the screening company and dispute the findings of the background check.
See also: Human Resources Guide to a Compliant Background Check Policy
State FCRA Compliance
While the FCRA ensures consumer privacy and accuracy from a federal level, many states have also passed their own FCRA legislation. The state legislation adds more details and often contradicts federal FCRA procedures, including the type of language used, reasons to obtain background checks and time limits.
In Alabama, Arizona, Arkansas, Connecticut, Delaware, DC, Florida, Idaho, Indiana, Iowa, Louisiana, Maine, Mississippi, Missouri, Nebraska, New Jersey, North Carolina, North Dakota, Ohio, Oregon, Pennsylvania, Rhode Island, South Carolina, South Dakota, Tennessee, Utah, Vermont, Virginia, West Virginia, Wisconsin, and Wyoming, employers must adhere only to the FTC's Fair Credit Reporting Act. In twenty other states, there are are stricter regulations on top of the already strict federal FCRA rules. With states and other municipalities actively passing Ban the Box laws and other legislation, this list is outdated fairly quickly.
Choosing a Screening Provider
A very important step to staying compliant during the background check process is choosing a screening provider. Background checks should be performed by a trusted and neutral third party company that must also comply with FCRA regulations. Some things to consider when choosing a background check company include:
FCRA certified staff
FCRA compliant forms
State FCRA compliance
At VeriFirst, our FCRA certified staff works with human resources to help employers stay compliant. We have also developed a state-by-state FCRA compliance filter to help HR adhere to these often confusing regulations. Our continually updated background screening platform is electronic, creating an easy interface for both hiring managers and applicants.
Contact us with any questions you may have regarding compliance or request a free demonstration of our platform today.