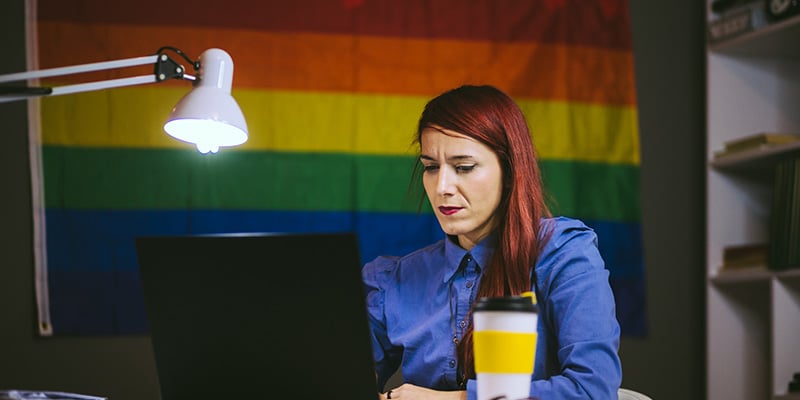 LGBTQ+ employees rate lower satisfaction at work compared to their non-LGBTQ+ colleagues, according to an analysis of reviews on Glassdoor. The Trevor Project reports that one in three LGBTQ+ young adults faces workplace discrimination. And according to Investopedia, trans adults are less likely to hold management roles and are six times less likely to receive a job offer. Most of these challenges start with representation in leadership, opportunities, and benefits.
In tribute to Pride month, we encourage employers to take 🏳️‍🌈PRIDE in their workplace LGBTQ+ representation with these best practices.
Normalize Diversity
Employers can normalize workplace diversity by presenting themselves as inclusive and increasing diversity hiring. Change the website and social media channels to reflect an accepting workplace and diverse workforce. Carefully review job descriptions for biases or gender-specific language. Encourage employees to self-identify and include their pronouns in their email signatures. Relax the dress code or advocate for employee individuality in dress, hairstyles, and personal space. These little changes can make a big difference to those who long to be accepted for who they are.
See also: How HR can Reduce Hiring Bias and Increase Diversity
Be Aware of LGBTQ+ Challenges
The willingness to discuss and support LGBTQ+ and other diverse workplace challenges helps to create a sense of safety among work colleagues. Intersectional ally training programs and employee resource groups are becoming a popular way that employers are driving inclusive workplace culture. Include DEI initiatives in the onboarding process, employee handbook, and company guidelines so that this willingness starts from the beginning. Celebrate events such as Pride Month in June and National Coming Out Day in October. Being out at work helps employees to feel included, supported, and empowered to reveal their best, creative, hardworking selves.
Hire and Promote Diverse Leaders
Research from McKinsey notes that being the "only" on a workplace team or in a meeting is stressful and lonely. Being the "only" woman, person of color or LGBTQ+ person feels pressuring, isolating, and often demeaning. Since all of these changes start with leadership, hiring and promoting more diverse leaders will attract more diverse employees. When employers create a more diverse and inclusive vision of the company, LGBTQ+ and other groups feel that they will be accepted. And when employees feel that they can bring their full selves to work, everyone benefits. Representation matters and it starts at the top.
Be an Ally
It's time for employers to take pride in their brilliant, dynamic, and colorful workforce. Continue to communicate with your current LGBTQ+ employees to determine other ways you can support them, through comprehensive benefits and equal opportunities. Keep the conversation open so that progress keeps happening. Over 400 major U.S. businesses have thrown their support behind the Equality Act, improving protections for LGBTQ+, women, people of color, and people of all faiths. Your business could be there too.
Learn more about how to be an LGBTQ+ ally in our Pride post from last year: How to Attract and Support LGBTQ Employees in the Workplace and download Glassdoor's guide to creating an inclusive workplace culture.