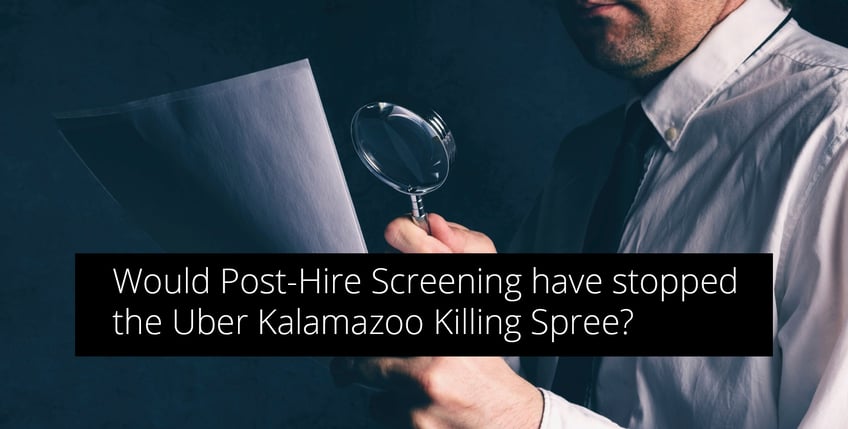 The devastating killing spree by an Uber driver in Kalamazoo, Michigan over the weekend has again opened up the topic of proper background screening. Uber has actually been targeted for their background check process for some time and, unfortunately, each terrible event brings more skepticism. Even though an organization like Uber pre-screens potential employees before hire, many neglect to screen employees after they are hired.
If Uber had a post-hire screening process, could the Kalamazoo killing spree have been prevented?
Uber's Background Checks
Uber's hiring processes come under fire for every negligent action by an Uber driver. The company is once again defending its background pre-screening process, a similar process used by many in the taxi cab and limousine industry as well. Their hiring and background screening process, documented in a blog about safety on their website, follows these protocols:
The use of a screening provider who is nationally accredited by the National Association of Professional Background Screeners (NAPBS).
Collection of driver information including full name, date of birth, social security number, drivers license number and copy of license, vehicle registration, insurance, and proof of vehicle inspection.
After obtaining applicant consent, the background check uncovers name changes and seven year's worth of addresses at the local, state and national levels.
The identifying information is searched in National Sex Offender websites, National Criminal Searches, and other databases to identify terrorists.
If any matches are found, the screening company then verifies that the record is a correct match with the driver.
They also pull Motor Vehicle Reports (MVR) associated with the driver's license to look for moving violations.
The blog post goes on to include the criteria that leads to disqualification of the candidate as a driver for Uber.

One difference between many taxi and limousine companies and Uber's pre-screening process is that Uber does not perform fingerprint scanning. The company also defends this practice in the same blog post, stating that many drivers are unfairly discriminated against when fingerprints are used because of arrest records where people where not charged or convicted.
What about Post-Hire Screening?
Many companies neglect background screening after hiring an employee. It is unclear if Uber re-screens post-hire (also called "infinity screening") to check their current drivers after they have been working for the company for a while. Re-screening current employees, however, is a recommended practice, especially for a company that could potentially be hit with litigious and expensive negligent hiring claims. Here's why:
Security - If the employee could potentially put others at risk, it is imperative for the employer to know of criminal activity since the initial screening.
Job Performance - If a driver is smoking marijuana on the job, those activities could affect their job performance. Not to mention the activity is still illegal in many states.
Damage to the business - Uber's reputation is put on the line every time a driver puts a passenger in danger. Re-screening current employees may reduce the ongoing issue of reputation management.
Insurance underwriting - To obtain general business insurance, underwriters may require more MVR checks on employees, especially if they are driving on company time.

In order to screen current employees, the process of obtaining applicant consent and authorization to a background check still applies, as in the pre-screening process. This can be a tricky process, especially if it is a new policy, but employees should be reminded that it is in the best interests of the company and its employees.
Could Kalamazoo been prevented?
This question has been the topic of news stories all week. Uber claims (and defends) that its driver had no criminal record at the time of his hire with the company. He had also not been working with the company long, only hired in late January, and therefore would not have been subject to post-hire screening at the time of the tragedy. Uber also contends that the driver's rating by passengers was 4.73 out of 5, therefore verifying that he had been a safe driver up until that point.
Unfortunately, the company says, no amount of background screening could have predicted that the driver would have a psychotic episode and randomly harm or kill innocent people. Uber does have a policy already in place against drivers or passengers carrying guns but unfortunately, there is no way to enforce the policy. In the meanwhile, Uber is testing other safety features for passengers including a panic button in the app and a smartphone meter to determine reckless driving.
The sharing economy has opened up the business world to an entirely new way of doing things. AirBnB, Uber and others, while still fresh in the minds of traditional media, will continue to be spotlighted when consumers are put in perilous or dangerous situations. A pre and post hire background screening process can help identify potential risks but it cannot predict the future. These companies aren't the only ones putting their businesses on the line when hiring employees - but they're opening up the conversation for everyone.
Topics: Employee Relationship Management, Employment Background Screening, Hiring and Recruiting