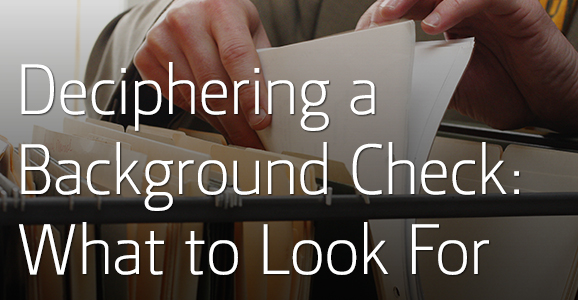 A background check involves investigating a person's employment, criminal and financial history. Although most employers typically want to cut to the chase and see a job candidate's criminal and driving record, there are some practical limitations to these searches.
Fair Credit Reporting Act
The Fair Credit Reporting Act (FCRA) has been the law of the land in the United States for over four decades.
The FCRA gives employers and HR departments guidelines for navigating background checks, especially as these checks relate to adverse hiring decisions and notifying the job applicant about sensitive aspects of the background check.
How Deep Should a Background Check Be?
That said, the type of job and its attendant responsibilities will usually dictate the scope of the background check that the employer decides on.
In other words, a job at Best Buy will usually require less stringent or deep background checks than a job working with the CIA. Some jobs require a sweeping check of the candidate's credit history, for example, while others do not.
Types of Background Checks
When you go through a third-party background check agency to find out more about a job candidate, you could run into problems with poor record keeping or only a partial collection of the candidate's relevant information.
Background check websites look into the candidate's possible criminal history through courthouse searches, state repositories or nationally aggregated databases. In addition to criminal records, background check services can also provide Driving Records, Employment Verification, Education Verification, Professional References, Drug Testing and more. Most of these background check services have access to many databases that house public information about the individual you want to check out.
What Should You Be Looking For?
Some job applicants can hide things from their potential employers or exaggerate certain aspects of their lives, such as the college they went to.
To keep a handle on all of these applicants, background check agencies conduct as many as 10,000 background checks per day at a cost of around $30 per background check to keep job applicants honest.
Misdemeanor and Felony Charges
Typically a job candidate's possible misdemeanor and felony charges would be something that all employers should inquire about. These records are normally held by the county or state in which the job applicant is from. A full criminal history as part of a background check should be mandatory for most jobs. It's important however that the employer clearly defines their screen policy. Having a background screening decision matrix that clearly defines acceptable and non-acceptable offenses will help avoid confusion down the road. .
Credit Reports and Bankruptcy Filings
If the position that the employer is considering for a given candidate depends on the employee being especially responsible and good with money, then a background check that includes a full credit history and any bankruptcy filings would be helpful. Many background check agencies only offer this information for a small fee, which might be well worth the cost depending on the position.
Drug Test Results
Approximately a quarter of background checks contracted out to thirty-party background check agencies will conduct a drug test as part of their report.
The drug test is usually carried out in conjunction with a local medical center or clinic. Employers might want to really consider this option.
There are some drawbacks to asking that the background check include a drug test - drug tests can be expensive and might only be relevant for jobs that require operating heavy machinery or complete mental precision.
Driving Record
Any DUI charges or license suspensions would be very relevant information for an employer to take a look at, especially if the job requires operating a vehicle.
Takeaway Points on Background Checks
Although employers are forced to comply with the Fair Credit Reporting Act when it comes to conducting background checks, the scope of the background check will largely depend on the employer's needs and future job requirements.
Topics: Employment Background Screening, Cost of a Background Check