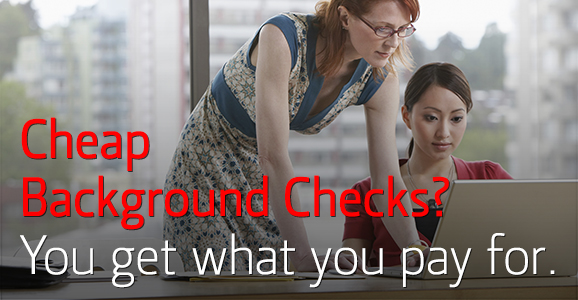 If you regularly need background checks, it's important to find the right provider. Using the wrong service can be disastrous for your business, which is why you shouldn't make a decision based on price alone. Here are some things you should keep in mind in order to ensure you choose the right company to fill your background screening needs.
Customer Service
Some companies have no interest in you, aside from accepting your application and taking your money. A background screening company should do more for you than just process your request-they should also communicate with you every step of the way to ensure everything goes as planned. By choosing a company that doesn't provide you with this level of customer service, you are opening up the possibility of legal action, not to mention the fact that the background screening process can be more frustrating than it needs to.
Compliance with the Law
The most reliable background screening companies have employees who are familiar with laws such as the Fair Credit Reporting Act (FCRA), as well as the regulations of government agencies such as the Equal Opportunity Employment Commission (EEOC) and Federal Housing Administration (FHA), among others. They are also familiar with state and federal laws concerning background checks, and will ensure you are in compliance. Not every service is able to offer this guarantee, which is why you should rely on a trusted company such as Verifirst for all your background screening needs. In doing so, you could potentially avoid hefty fines and penalties for violating the law.
Secure Transactions
A reliable background screening service will ensure your documents are encrypted with Secure Socket Layer (SSL) technology in order to protect sensitive information from hackers. They'll also take extra precautions to prevent your client's information from falling into the wrong hands by seeing to it that only those who need to handle it do so. Having an applicant's information misused will reflect poorly on your business, even if you are not responsible for it directly. To avoid this headache, be sure to use a reliable company that is deeply concerned about privacy.
Fast Turnaround
A background check is normally the last thing that is done before you make a job offer or allow a tenant to move into your property. The longer you wait for the results, the more costly this process is for you. Companies that perform background checks at rock bottom prices often take their time getting the results back to you, which means your positions go unfilled or your property remains vacant in the meantime.
Our goal is to get results to you as quickly as possible so your operations won't be stalled during the process. What's more, authorized members of your staff can also have instant access to the results from anywhere, so you'll be able to act on them as soon as you receive them.
When choosing a background screening service, there are plenty of things to think about besides the cost. Going with an inexpensive company may not actually save you much money, and is likely to create stress that you wouldn't have to deal with otherwise. For top-notch service, including background checks that are in compliance with state and local laws, choose VeriFirst.
Topics: Types of Background Checks, Cost of a Background Check