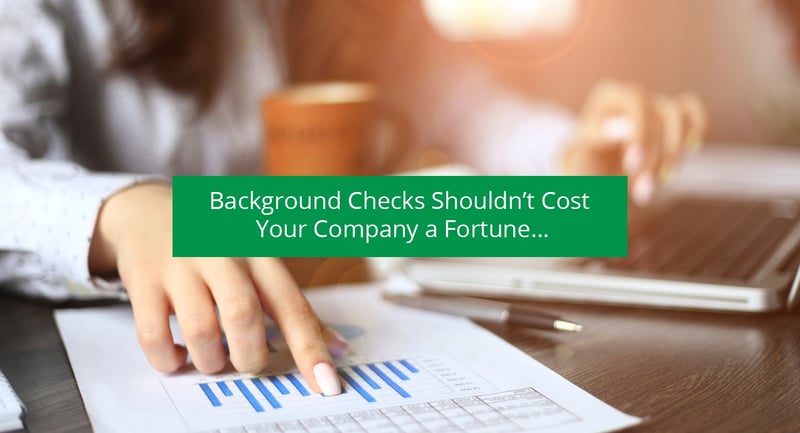 Background check costs shouldn't be a fortune (but they could save you one!).
Consider the thought of running background checks on a potential new hire. Did you cringe a little? If so, there's a possibility that you may opt out of background screening altogether. In fact, one of the main reasons some companies avoid background screening is due to cost.
Here's the thing - background checks shouldn't cost your company a fortune. In fact, opting out of a background check can lead to both a time and money suck for your company.
Background screening can actually be an affordable way to keep your company employees safe and save money along the way.
How much do background checks cost?
The correct answer is... It depends.
The reason "it depends" is the correct answer is because every company shouldn't expect to be paying the same as any other company.
Think of it this way: if you were screening a candidate to be a school bus driver, you will need a completely different set of background checks than someone who is screening for a hamburger cook at a restaurant. Sure, both should have identity checks and a criminal background check, however the school bus driver may also be screened against the National Sex Offender registry. The hamburger cook may not be screened for credit history but if they move up the ladder to management, they may need an entirely new set of background checks. For more on pricing and the cost of a background check, see below.
How do I save money on background checks?
Saving money on background checks may require a little work on the front end but it's completely worth it. As discussed above, every job in your company may require a different level of background screening. Understanding what screens should be required by position is a good place to start for background check basics.
You can also try a waterfall approach to screening candidates to help save money. For instance, you may run a standard set of background checks on each candidate and, after the results, determine that more in depth checks need to be run only on particular candidates.
Selecting a third party vendor for background checks may also determine if you save money on background checks. An online applicant platform that integrates with other recruiting platforms (such as VeriFirst's integration with iCIMS) may save money and time as data is entered directly by the applicant. This method lowers the chance of data entry errors and the integration means that with a few clicks, the applicant can be screened and hired with accuracy and efficiency.
What happens if I skip or shortcut the background check process?
Potential high dollar lawsuits. Do we need to say more?
The FCRA is enforcing ongoing class action litigation against companies or organizations who aren't screening employees with proper consent or authorization. In 2015, FCRA handled over 3, 500 cases, up from the previous two years. If you shortcut the proper way to screen employees, your company is at risk for a class action lawsuit that could cost more than screening an employee.
Negligent hiring claims are also on the rise as people come forward with complaints about improper or harmful conduct of employees. If your company hires someone who harms a customer or one of your employees, your company can be held liable, especially if you didn't run a background check.
Not only small companies, but large corporations such as Uber, Michaels and Disney, plus law enforcement and government agencies have been hit with lawsuits or class action claims. Consider the amount of time and money your company will have to spend to go to court, sort through documents, pull proof and other ways you'll have to defend your actions. When running a background check might cost something, isn't it worth doing due diligence to protect your employees and your bottom line?
If you are interested in getting a quote on background screening for your company, contact VeriFirst. Our FCRA certified staff is at the ready to create a personalized and flexible price quote for your needs. Schedule a demo to see how the VeriFirst Online Applicant Portal can make your hiring processes easier.