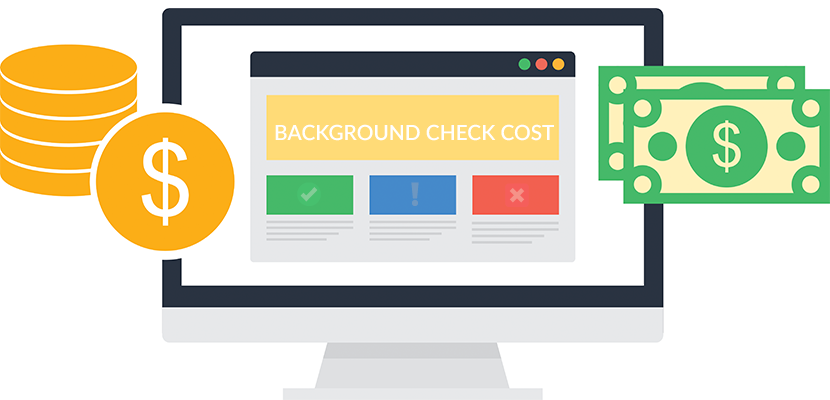 Over the past decade, the consumer reporting and background screening industry has seen significant growth. With growth typically comes competition, and with competition usually comes aggressive pricing. The cost of a criminal background check can vary by search type and by screening company (aka Consumer Reporting Agency - CRA). This post is to provide an estimate of what employers and landlords can expect to pay when conducting employment and tenant screening.
When estimating the cost of a background check, there are typically two types of expenses that come into play.

Background Report Cost: What your background check provider will charge you to process and deliver a background screening report. This is the price that is often quoted when shopping background check costs online. (Price ranges are provided below)

Access Fees: Occasional add-on / access fees charged by certain jurisdictions (local courts) and data providers. These are often passed-through to the Employer. If using VeriFirst, we provide a detailed list of ALL access fees before ordering. This means no surprise charges on your invoice. (If using another vendor, ask for the same).

Cost of a Background Check
Below is a background screening company's price range estimates for commonly requested background checks.
Type of Background Check

Costs

Identity Checks
Price Range
Access Fee
Identity Verification, Social Security Number Trace, Address History
$2 -$4
No

Criminal Background Checks

Price Range

Access Fee
National Criminal Background Search / Criminal Database Search
$7 - $15
No
National Sex Offender Search:
$0 - $5
No
County Criminal Search / County Court Search
$8 - $16
Possible
Statewide Criminal Search
$9 - $15
Yes
Federal Criminal Search
$8 - $15
No
OFAC Terrorist / Watch List Search
$0 - $5
No

Credit History

Price Range

Access Fee
Employee Credit History Report
$5 - $10
No
Tenant Credit Report with Credit Score
$4 - $9
No

Motor Vehicle Records

Price Range

Access Fee
Driver's License Search / MVR Records
$3 - $10
Yes

Verifications

Price Range

Access Fee
Education Verification
$7 - $15
Possible
Employment History Verification
$7 - $15
Possible
Professional License Verification
$7 - $15
No

Rental History

Price Range

Access Fee
Tenant Eviction Records
$4 - $8
No
Rental Payment History (RentBureau)
$0 - $10
No

Drug Testing

Price Range

Access Fee
5 Panel Urinalysis Drug Test (Lab Conducted)
$25 - $40
No
10 Panel Urinalysis Drug Test (Lab Conducted)
$30 - $55
No



Okay. So what about those Access Fees?
With certain background checks, jurisdictional and data access fees are charged by select counties, states and data providers. Below is a range. If you would like a detailed listing of current access fees, click here.
| | |
| --- | --- |
| Type of Access Fee | Access Fee Price Range |
| County Court Access | $0 - $30 |
| Statewide Criminal Repository Access | $3 - $95 |
| Department of Motor Vehicle / Driver License | $2 - $28 |
| Employment Verification Data Warehouse | $0 - $20 |
| Education Verification Clearing House | $0 - $20 |
When shopping background checks, look for transparency.
The cost of a background check will depend on the level of detail you are looking for, as well as the jurisdictions (location) in which you must search.
At VeriFirst, we provide complimentary price quotes in a simple (easy to read) format. Just tell us what you're looking for, or ask our FCRA Certified staff to make recommendations. When it comes to the cost of a background check, we believe there should be no surprises. Contact us for more information.



Editor's Note: This post was originally published in July 2013 and updated in the current year for accuracy and comprehensiveness.
---