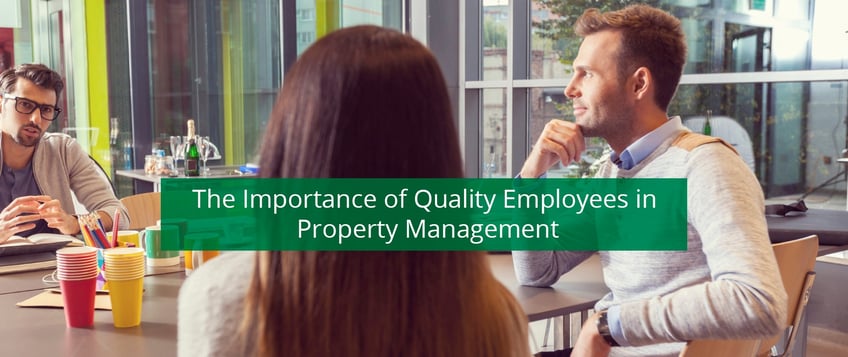 Property managers have enough to worry about with maintenance and management of their properties, screening and placing safe and responsible tenants and ensuring rent is paid on time. A VeriFirst client recently shared with us that another challenge is the high rate of employee turnover in their leasing offices. As we went further into the discussion, we recognized the challenge of finding quality employees in property management affects more than just the front office.
Your front office employees also affect the types of tenants that are being placed in your properties.
Property Management Staff Turnover
In a typical multifamily property front office, the leasing manager assists current tenants with maintenance issues and rent. These property managers will also be responsible for showing the property and leasing to new tenants. Leasing managers are generally young, 20 - 40 years old, live on property and may stay at the same position for a short period of time. Because of this, the average turnover in the multifamily housing manager field is around 31% according to the National Multi Housing Council.
High rates of employee turnover are typically due to:
Salary - Managers may be scouting other multifamily locations for higher salaries due to such a competitive environment.
Benefits - Recent rising costs of healthcare insurance have caused many employers to reduce benefits, causing property management employees to take on additional costs.
Work environment - If leasing managers feel micromanaged or overworked, they will consider leaving the company to pursue other opportunities.
Company culture - When employees are rewarded for a job well done, when they are offered a career path for growth rather than "just a job", when they believe in a company mission and are a good match for the company, they are more likely to stay with the company.
The costs of turnover for each employee can be expensive considering the time and money spent recruiting, screening, hiring, training and administrative expenses. Another cost of too much turnover is the perception of your residents. If they perceive too much instability in your front office, they may consider moving elsewhere.
Quality Employees - Quality Tenants
Consider again the cost of hiring an employee and the effect it could have on the residents in your property. If a property owner or multi-housing employer isn't properly vetting employees, they may inadvertently hire someone who may do more damage than good. A leasing manager that isn't a good fit may also lease to tenants that aren't a good fit for the property. Those residents and their actions may affect other residents who then decide the property is no longer the place for them to feel secure and welcome. The domino effect leads to empty apartments or rooms filled with undesirable tenants.
Hiring and retaining top talent begins with an effective hiring process and continues throughout the employee's tenure with the business. An effective hiring process includes:
Reviewing current recruiting and hiring techniques - Evaluate current leasing managers that care about your business and are happy in their jobs. You may find that they were all recruited with a particular agency or advertisement. Review what hiring procedures lead to the best employees.
Screening - Employee screening is compelling in hiring quality employees. Understanding which background screens are necessary, per job or position within your property management front office, will also help to reduce the cost of background screening as a whole.
Identify company mission and culture - The mission and culture of a multifamily property will attract the right employees and the right residents. Identifying these will allow owners to weed out those who aren't a good fit.
Onboarding and Growth - Training and opportunities for growth are top reasons for valuable employees to stay with a company.
Staff & Resident Relationships
Property leasing managers are representative of your multifamily company. Their relationships with other residents and new tenants will affect the overall culture of your property. Creating a competent and effective hiring process will help owners entice and retain quality employees. A respectful and considerate staff, who fits the company culture and mission, will naturally attract residents who are respectful and considerate as well.
Topics: Tenant Background Screening, Employee Relationship Management, Employment Background Screening, Hiring and Recruiting