A few weeks ago we asked you, our readers, about your background check best practices. At VeriFirst, we have over 10 years experience helping our clients with employment decisions and compliance challenges. We've dedicated this blog to helping others with FCRA compliance and hiring practices. We recognize that our faithful readers are on the front line and we wanted your experience of how your business handles hiring, screening and compliance issues. Thank you for your responses.
Here are the results of the Background Check Best Practices survey.
When choosing a background check provider, what is most important to your business?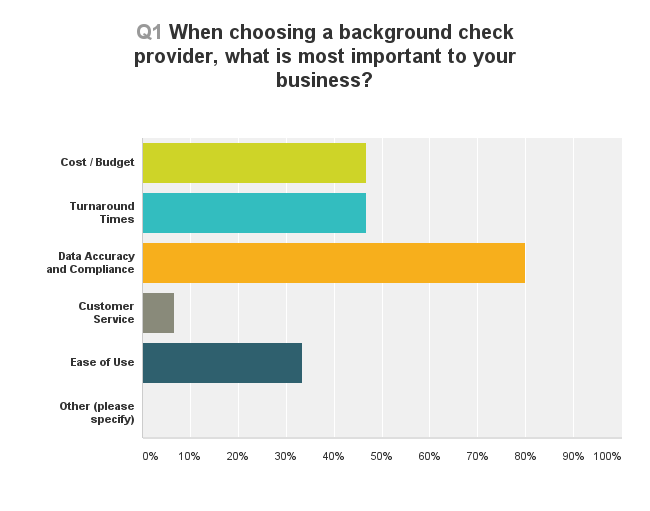 According to survey results, the majority of respondents (80.00%) said that data accuracy and compliance was the most important factor in choosing a third party screening provider for their business. Beyond that, cost/budget and turnaround times were both tied at 46.67%. If a screening company's background check platform is easy to use, 33.33% of respondents would consider the provider for screening potential employees. Last, and most surprisingly on the list, customer service was important to 6.67% of survey responders.
When do you typically conduct your background checks?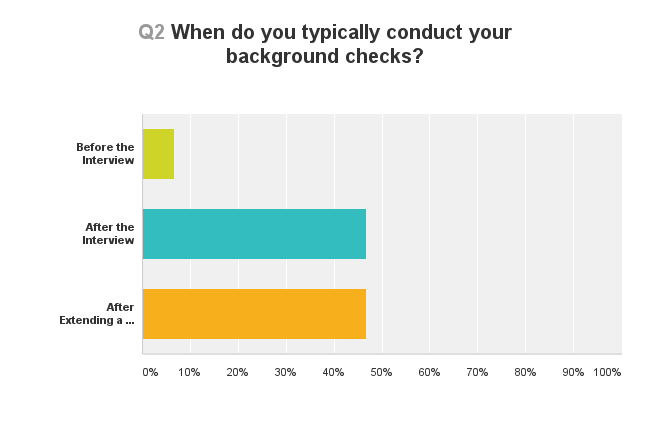 At 46.67% of responses, many of those surveyed wait until after extending a job offer before conducting a background check on an applicant. Tied at first, 46.67% prefer to run background screens after interviewing the candidate. Maybe running a background check is one way to determine if the applicant will be interviewed, as 6.67% of the survey responses said they would perform a background check before interviewing an applicant.
How does your company prefer to obtain Applicant Consent?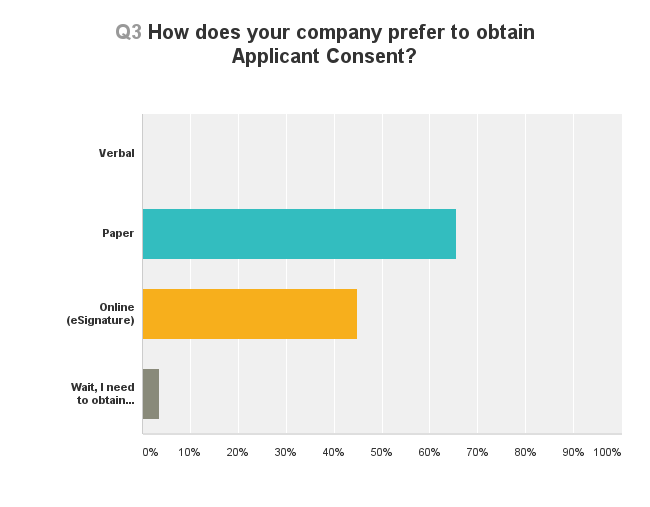 One of the most popular topics on our blog is regarding applicant consent. With so many companies facing litigation about non-compliant consent forms, we were curious about responses. As it turns out, 65.52% of respondents use a paper form to notify and obtain consent to a background check from applicants. Running a close second, 44.83% of survey results show that many businesses use online forms with e-signatures for applicant consent. Confirming that we need to continue to educate on compliance, 3.45% of respondents didn't realize that they need to obtain applicant consent for a background check.
Does your company have a written Background Check Policy and/or Decision Matrix?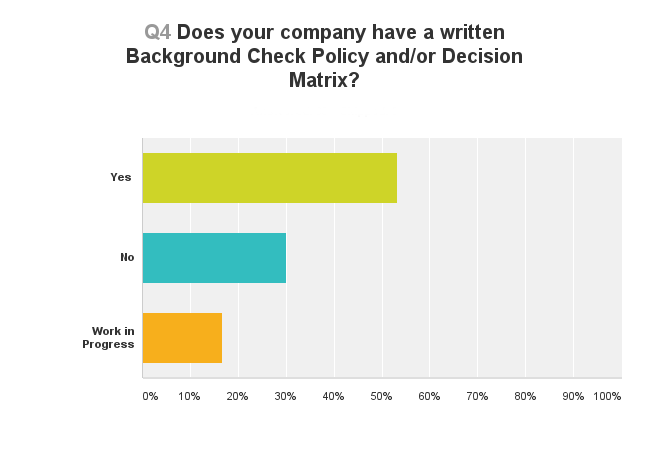 The most popular download on the VeriFirst website is the EEOC Decision Matrix that helps hiring managers with consistent employment decisions after conducting a background screening. Part of ensuring EEOC compliance is keeping a written policy and decision matrix with regards to assessing criminal records and 53.33% of respondents indicated they do have such a policy. 30.00% of survey responses did not but 16.67% of respondents stated that they are actively working on creating a background check policy.
How would you rate your knowledge of the Fair Credit Reporting Act (FCRA)?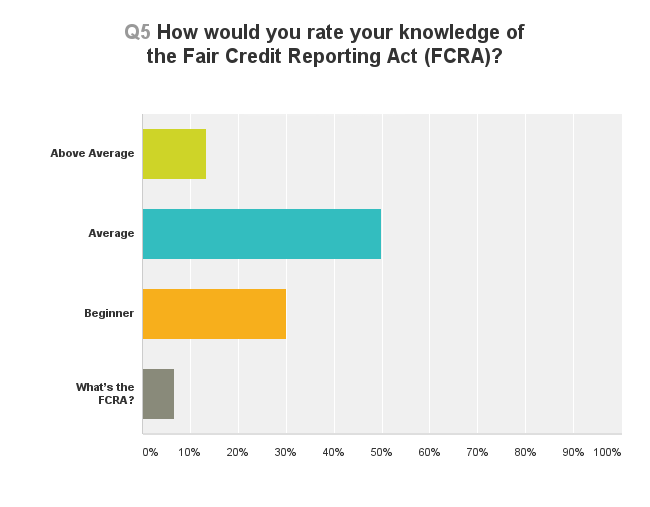 This blog includes many posts about the FCRA so we hoped respondents would have some knowledge with regards to compliance. Only 6.67% of those surveyed didn't know what the FCRA was. 50.00% felt they had average knowledge, 30.00% had beginner knowledge and 13.33% of those surveyed responded that they have above average knowledge of the Fair Credit Reporting Act.
The survey responses will help continue to guide the topics and content that we share on this blog. We are grateful for your insights. Please comment below if there are any other particular topics we should cover or if you have any other questions with regards to applicant consent, FCRA compliance or hiring practices.
Topics: Employment Background Screening