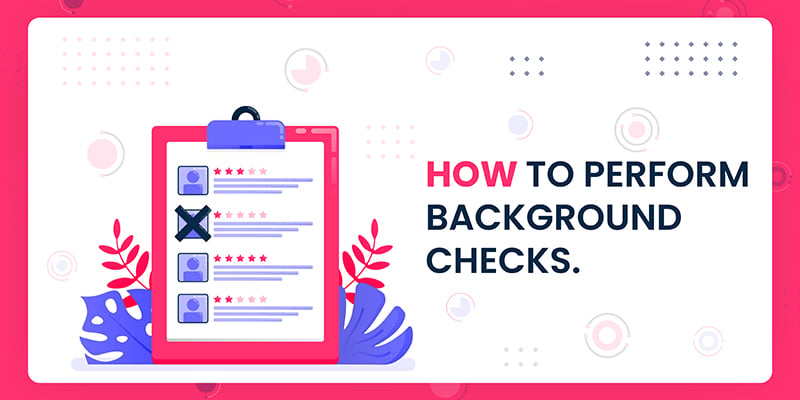 When you're ready to hire your next (or first!) employee, you're wise to consider running background checks on your applicants. A background check, performed correctly and in compliance with federal and state regulations, should offer peace of mind and help you select the right employee for the position. There are some steps you can take prior to hiring to help ensure consistent and fair hiring practices too.
Read on to learn how to perform a pre-employment background check on a potential employee.
Step One: Create a Background Check Policy
A background check policy will inform your applicants of your intentions. With a background check policy in place, your business will have clear documentation on your hiring process and why you would extend or rescind job offers. This policy will protect you from future legal ramifications.
A background check policy will include the following information and help inform your applicant:
That you'll be using a professional background check partner for screenings
Which department in your business is responsible for hiring
The legal obligations of your business as an employer
Guidance for disqualifying applicants based on criminal records
For a sample template of a background check policy, click here.
Step Two

: Research and Choose a Background Check Partner

When selecting a screening company to work with, your business should consider how well the agency communicates with you, the transparency of their costs and screening process. A professional background check partner will also:
Step Three

: Choose Job-Related Background Checks

If you're interested in a quick turnaround and at a lower cost, your business can choose screens based on the job you're hiring for. In other words, start with a round of basic background checks such as:
Identity verification
National criminal database check
National sex offender watch
After a basic background check, you can choose more in-depth screens such as courthouse records, credit history, drivers records, education and employment history. Depending on the job description, you may choose to opt out or add on more background checks to obtain more relevant information.
Step Four

: Obtain Consent to Run a Background Check

When you're ready to perform a background check on your potential employee, the Fair Credit Reporting Act asks that you're very deliberate in obtaining consent. The authorization form should be "clear and conspicuous" and separate from the employment application. The form should also include which screens will be run and let the applicant know that a job offer will be dependent on the results. Your potential employee will also be given a summary of their rights under the FCRA including the right to dispute false or inaccurate results on their background check.

See also: The Do's and Don't of Applicant Consent

Step Five: Choose to Hire or Not Hire Your Potential Employee

It's very important to document and refer to your documentation when your business makes a hiring decision. If your potential employee's background check reveals a criminal record, you can't simply refuse to hire them. Your business must refer to a background check decision matrix to prove that your applicant's criminal record disqualifies them from the job position. This matrix will establish guidelines for avoiding a blanket deny policy and aligns with EEOC guidance for considering criminal records.

For an editable sample background check decision matrix, click here.

Step Six: Pre-Adverse and Adverse Action

When your businesses chooses not to hire the candidate, they must be notified in compliance with the FCRA through pre-adverse and adverse action. These notices will be sent to inform the applicant that the results of their background check negated the hiring decision. They should receive a copy of the background check, contact information for the background check company and a summary of their rights under the FCRA. They will then have the opportunity to dispute the results and your business will review the results again. For more information about denying employment, read this.

Working with a Screening Partner

If your business chooses to work with VeriFirst Background Screening, you can expect the following:
Real-time, secure information, available 24/7
FCRA Compliance assistance, applicable forms and an online screening portal
Unlimited access to customer support and transparency to our process
Value-added assistance including hiring recommendations, screening guides and complimentary records review
No long-term contracts or monthly minimum volume requirements
PBSA accreditation
Download these free resources to help your business perform a background check on your potential employee:
Compliance Library of Forms for Employee Screening including sample templates, adverse action notices, sample policies and more.

HR Screening Kit including how to reduce the cost of background checks, pro-tips for FCRA compliance and how to read background check reports.