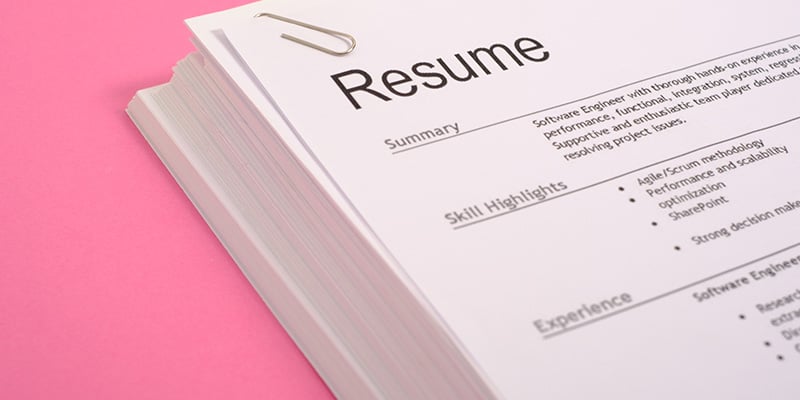 Hiring managers and recruiters are faced with looking at hundreds of resumes each day. Glassdoor reports that the average time spent looking at a resume is 6 seconds while other surveys have listed less than two seconds. Applicant tracking systems make the job a little easier but resumes still have to pass the scan test in order to stand out to recruiters and hiring managers.
One such way for job applicants to be noticed by recruiters and hiring managers is to have an updated resume. Here are 5 reasons why.
Things Change
Applicants typically update their resumes when they're changing jobs. New skills obtained, new job roles and new employer information should obviously be added to the resume. Outside forces may have changed as well, as COVID-19 is a case in point. More employers are moving workers offsite or allowing them to work remotely. As a job candidate, this means that resumes must be updated with any relevant remote work information and some information, such as address, may not be necessary. If the applicant has lost their job due to the pandemic or if their industry has been affected by the shutdowns, they may have taken on side work or other similarly relevant activity that could be highlighted to reveal their flexibility and their trustworthiness when telecommuting.
Outdated Information is Irrelevant
Hiring managers don't need to know if an applicant was an active volunteer 15 or 20 years prior, unless they've continued to do volunteer work. In fact, outdated job information can also be removed from resumes if it's no longer relevant to the position being sought. When a recruiter is reviewing a resume, they are looking for certain keywords and job requirements and the timeliness of the information. Job qualifications from decades earlier may not be as important if they are not in alignment with the current job requirements and most recent position.
See also: How Far Back Can Employers Search Criminal Records
Social Profiles and Resume Don't Match
Some candidates will take the time to update their LinkedIn profile or their Twitter bio long before updating a resume. An applicant may stand out to a recruiter on LinkedIn but if their resume isn't updated to reflect the same information, they may fall flat to the hiring manager. Yes, hiring managers may review social media profiles, if the resume gets past the first look, so it's important that both the resume and the social profiles complement each other.
Facts Matter
It's not only college students who lie on their resumes, successful business executives do too. Lying about employment dates, university degrees or skills may have worked at previous job but it's likely that the next employer will rely on background checks to verify the information. Even a basic background check can verify information such as identity, education, employment and criminal history. If an applicant is serious about impressing a hiring manager, the resume should be updated with truthful statements.
Hiring Managers Want to Know: What Can You Do For Our Company?
No longer do employers want to know the applicant's objective, as typically listed on the top of a resume. Today's hiring managers want to know what the job candidate brings to the table. An updated resume will include scannable and impactful information such as:
Concrete examples of work accomplishments
Concise statements of fact and experience
Skills and other areas of expertise that are applicable to the job
An outdated resume does a disservice to a highly-qualified employee. They could reveal exaggerations or irrelevant information that immediately turns off recruiters or hiring managers. Updating a resume is important for applicants to tell a true, comprehensive story about their job history. When done well, employers will be listening.