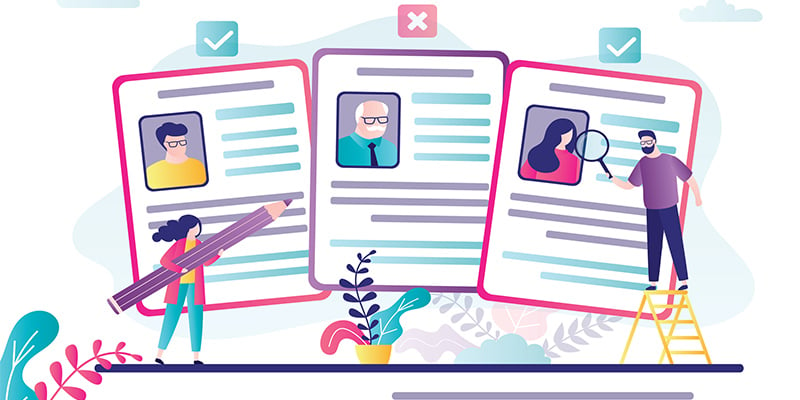 Age discrimination against working adults aged 40 and over is against the law according to the EEOC. Even with the best intentions, some hiring managers may still be unconsciously biased against older workers without even realizing it. The reason is due to what's typically the first introduction to the applicant - their resume.
Here are five ways that resumes are causing age discrimination and hiring bias.
College Graduation
When creating a resume, it's a logical step to add degrees and education. For older adults, the graduation date is a clear sign of their age. Instead of listing the graduation date, the resume should contain the schools, course of study, degrees, and other accomplishments. If the graduation date is necessary, it can be verified through an education verification background check after the job offer.
Job Experience
As individuals go through their careers, they add their employers and experience to their resumes. Over time, these additions add up. While it's important to include job experience on a resume, a long list of decades of work is a giveaway of a candidate's age. The hiring manager only needs to see the most recent job experience, staying within the last 10 to 15 years.
See also: Four Ways to Address Age Discrimination in the Workplace
Skills
If the candidate is not listing the past 20 years of experience, how will they reveal the full picture of their skills and knowledge? Depending on the job, the employer may be interested in the applicant's adaptability to technology. It's assumed that the applicant knows how to use the internet or Microsoft Office and listing those things as a skill is a sure sign of an older candidate. Instead, design the skills section with what's required in the job description and the proficiency level.
Social Media
It's also expected that the candidate will have a LinkedIn page. When hiring managers look at the social media account, what they see or don't see may also lead to unconscious bias. A LinkedIn page with an older photo or an incomplete profile could raise questions. The photo will also be the first visual representation of the candidate so a recent picture, that doesn't reveal age, is necessary.
Email Address
Email addresses can be a clear sign of an older candidate. Some job seekers have their year of birth in their email addresses. Others may have started their account on email providers that would certainly reveal their age. Remember AOL? It's important that applicants use a professional-sounding email address, such as their name, and if numbers are necessary, make sure they don't reveal personal information such as a birth year.
Removing or altering these things on a resume doesn't mean that the job applicant is hiding anything. The resume is simply the first step in revealing the candidate's value to the hiring manager. The interview and subsequent background check can verify any further remaining information.