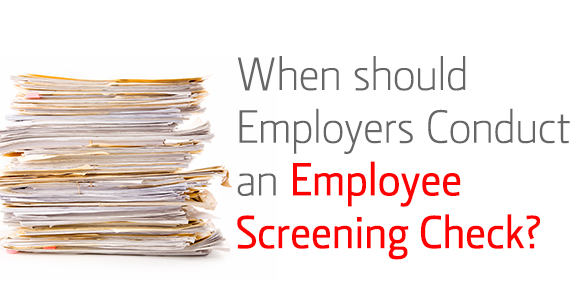 Businesses often need to conduct professional background checks for employment on individuals to protect themselves when associating themselves with a contractor, choosing a vendor, picking a customer or hiring an employee. A common question is at what point in the process do you conduct background checks for employment?
If conducted too early, a hiring manager may not have all the information needed to conduct a full background check. However, if you wait until too late in the process, there is the possibility of a simple clerical mistake holding up the process and not getting the full results at the proper time to decide on the best of several applicants for the position.
Typical Times for Background Check
After submitting an acceptable resume, the potential employee fills out the formal application including paperwork giving permission to conduct the background check.
In a series of interviews, after you've conducted the preliminary interview you may want to check the applicant's background before pursuing the process further with more interviews to validate the potential employee's suitability for the position.
With a single interview, you can run the background check before making the job offer, or go ahead and make the offer contingent on the results of the background check.
Local Laws
Some states may have laws that specifically determine at what point you are allowed to conduct background checks for employment. Although these laws may seem to be a nuisance, they are designed to protect the privacy of the applicants until you have determined you are in fact seriously interested in hiring them. Respect for these laws requires formal permission from the applicant before conducting the background check.
ComplianceCloudSM
VeriFirst developed their proprietary ComplianceCloudSM interface to make life easier for their clients. ComplianceCloudSM keeps pre-drawn consent forms, acceptance and denial letters, applicant's background checks and electronic form I-9 available for your quick access at your convenience.
Services for Employers
Identity and Social Security verification.
Full criminal history search for federal, state and local law breakers and sex offenders.
Credit history report.
Drug screening for substance abuse.
The information provided by VeriFirst protects your company from potential fraud within by verifying each of your new hires and making sure they are the best choice and fit for your business. Beyond their individual talents, which you confirm through the application and interview process, you can rest assured with guaranteed results that your new employee is safe for your company and the long term commitments you both expect with the employment offer.
Topics: Employment Background Screening, Hiring and Recruiting