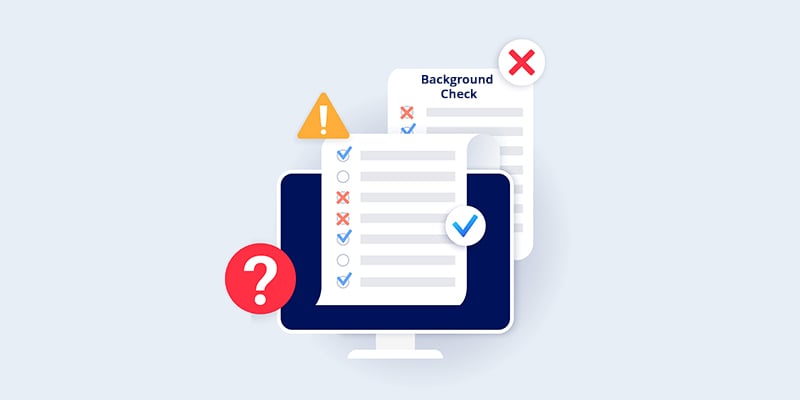 The Fair Credit Reporting Act (FCRA) became law when nearly any personal information could be added to consumer credit reports. Individuals didn't have a say over whether the data was accurate or outdated so they often missed out on employment or housing opportunities due to false reporting. Background check companies and employers must follow a standard of rules set by the FCRA to protect individuals, including verifying the data and allowing individuals to dispute inaccurate information.
Here's what to expect on an FCRA-compliant background check report.
What are the Rules for Employers Under the FCRA?
For clarity, the FCRA defines the following for employers and background check companies (also called consumer reporting agencies or CRAs):
Defines a CRA as "any person which, for monetary fees, dues, or on a cooperative nonprofit basis, regularly engages in whole or in part in the practice of assembling or evaluating consumer credit information or other information on consumers for the purpose of furnishing consumer reports to third parties, and which uses any means or facility of interstate commerce for the purpose of preparing or furnishing consumer reports."
Defines when a report can be accessed:

if the information has been requested by a court or with a subpoena
if the consumer requests it themselves
if the person or persons are requesting it for the use of determining eligibility for credit, employment, insurance, licensing, or other business transactions.

Clarifies that the requesting party must have a "permissible purpose" to access the report. The purpose might be for employment, credit, or insurance.
Ensures that the consumer provides consent for their data to be accessed
Ensures that the consumer understands the data could be used against them
Ensures the consumer can dispute any inaccurate or outdated information on the reports.
How Can HR Ensure an FCRA-Compliant Background Check?
The first step in ensuring hiring managers comply with the FCRA is to have clear procedures for adhering to the rules. The request for the background report should be made with an FCRA-compliant background check company after obtaining consent and authorization from the applicant. With a screening partner that employs FCRA compliance-trained staff, hiring managers can expect guidance, transparency, and consistency throughout the process.
Click the button below to download a free sample of an FCRA Compliant Background Check Report.