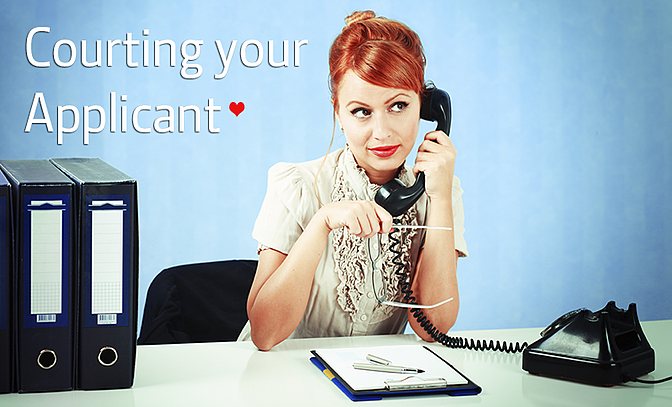 February is the month of love and we couldn't help considering the love affair between star applicants and hiring managers. Let us review the courting process - from the first date to the big happy day that the applicant becomes the employee.
Know Your Match
The first step in finding a perfect match is to know what you're looking for. The hiring manager should have a good feel for the organization's needs and culture match. Putting together a "needs" list also includes must haves and deal breakers/red flags. The perfect candidate for the job will meet at least most of the listed qualifiers and not throw any red flags or findings that would make them a bad match for the company.
The best way to put together a list is a decision matrix and hiring policy. Take note to review your current hiring policy, however, as with every relationship, you learn more about what works and what doesn't.
Finding Your Match
Finding the perfect candidate/organization match is a much different process than it used to be. Human Resources managers and candidates can now use the internet and social media to weed out the obvious mismatches and uncomfortable meetings. Fair warning though - the hiring manager could get catfished through social media - falling in love with someone who isn't real. If you do use social media to check out your potential employee, make sure the information is beneficial to the position. The challenge is also for the applicant to be authentic and approachable via social media but also appear desireable to the hiring manager.
Love At First Sight
Meeting your applicant for the first time can feel like magic if it's the right person. A qualified applicant can win you over at hello. The interview process is easy and comfortable and you want to move forward. Now is the time to take things to the next level - the background check. While it seems like it would be easy to run a cheap background check to find answers and quickly make an offer, what you may find instead is incomplete information or a stalled process. You're in love. You must make a well-informed decision and make it fast, lest your true match slip away. Remember to honor you - make sure you're following FCRA regulations and getting consent from your applicant before digging further into their past.
The Proposal
Everything is wine and roses until something unexpected shows up in your applicant's past. How far back did you look when conducting the background check? Did your applicant have a crazy night in college that can be forgiven? Take note of your decision matrix and hiring policy before you get down on bended knee. It just may be that you're landing the best thing that's ever happened to you.. err.. your organization. Let's hope your applicant says YES!
Congratulations on a successful courtship. Finding the right person for your company's needs can be a frustating process. Armed with the right information and a solid process can leave you feeling like a real Romeo to the perfectly charming Juliet.
But with a better and happier ending.
Topics: Human Resources, Employment Background Screening, Hiring and Recruiting