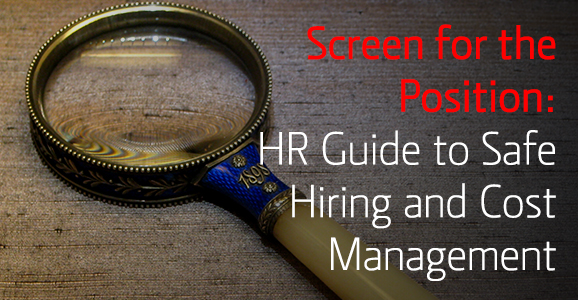 In college, I was a Communications major with a focus in broadcast journalism. I recall something a professor said to me in one of my post production (editing) courses. In reference to the importance of having good material (footage) to use in the edit bay, he told me the best cameramen will always "Shoot for the edit".
HR Guide to Safe Hiring
Think about it. "Shoot for the edit". It's the simple premise of having your goal in mind and knowing the outcomes you want to produce. For the cameraman, he or she should shoot footage that gives the editor flexibility to tell the story from a variety of angles. The cameraman most understand the objectives of post-production in order to meet the needs of the overall project.
The same applies in Human Resources and employee background screening. HR professionals are faced with a long list of available screening tools (employment verification, education verification, criminal records, driving records, drug testing and more). However it's important to understand that not all background checks and verifications apply to every position. Outlining objectives for the screening and qualification will go a long way in deciding which background checks are best for each position. It is also important to use a decision matrix in the screening process (as recommended by the EEOC), like this one:

How to Screen for the Position:
Start by Identifying Daily Tasks for Job Related Background
Checks
Each position within your organization should have a job description associated with it. Based on the related duties identified in the job description, you can begin to determine which background checks would best line-up with qualifying the applicant for the position.
Here is an excerpt of a job description for a Bookkeeper:
Key Accountabilities:
Post cash receipts and performs deposit / scan functions: Includes Payments to Business (PB) and Payments to Clients (PC).

Manage and perform on a timely basis, the accounts receivable functions for the Company. This includes but is not limited to: Monitoring outstanding payments via aging/roll rate and contacting clients for payment. Escalating to higher when necessary.

Reconciles operating system with Cash sheet and Invoices to ensure all systems in balance.

Screening for this position:
Because the core job functionality for this position would require the employee to have direct access to company cash, payment processing and bank account information, the following is recommended:

Identity Verification and SSN Trace – Verify and identify jurisdictions to investigate.
National Criminal Database Search - Broad felony and misdemeanor search. Looking for convictions related to the theft, fraudulent checks, etc.
County Criminal Court Search(s) – Local felony and misdemeanor search based on SSN Trace that contains the most up to date dispositions for crimes deemed unacceptable under your company's screening policy.
Credit Check – Pre-Employment Evaluation Report (PEER) credit reports will identify potential red flags in your applicant's financial history that may make them more prone to fraud or theft.
OFAC – The US Department of Treasury's Office of Foreign Asset Control (OFAC) maintains a list of Specially Designated Nationals (SDN's) of those individuals and entities that have economic and trade sanctions based on US foreign policy and national security goals. Employees handling financial transactions for your company should be cleared against this list.
To price this bundled package, Click Here
On the contrary, for the Bookkeeper position, it is probably not necessary to run additional searches like the Professional License Verification, Civil Court Searches or MVR Driving Records.
Your company screening policy may also include exclusions for sex offenses, drug violations, employment and education verifications, etc. As always, you should adhere to those as recommended or required by HR. (If you would like recommendations, let us know.)
Safe Hiring: Factoring Job Relatedness in Hiring Decisions
Once you have identified the types of background checks conducted for each position, you'll to need to establish eligibility guidelines for determining what's acceptable and what's not. (Click here for more on Job Related Background Checks)
By now, employers are probably aware of the background screening guidelines issued by the Equal Employment Opportunity Commission (EEOC) in April of 2012. Among other things, the EEOC recommended that employers avoid 'deny all' policies and utilize a decision matrix before taking any potential adverse actions. For help, see our Compliance Library.
Cost Management
Once you have defined which positions will require which types of background checks (and established eligibility guidelines), you can now focus on cost management and develop a budget for background screening services.
A reputable background screening company should be able to provide you with a breakdown as to the cost of a background check. If available, ask to see itemized pricing for the services you are requesting. Since most screening providers price the background check by search type and pass through any supplemental access fees, it's good to see where the expenses are coming from. It will also help when negotiating pricing for screening services.
As for establishing your budget, simply take the annual volume of hires [50 people] multiplied by your total cost per background check [say, $40] and voilà! Your annual screening budget is complete: $2000.
Since each jurisdiction has varying turnaround times and access fees (1 to 60 days and $0 to $65+) work with a screening company to understand the best search type for your location(s) and industry.
Looking for more information on pricing or turnaround times? Ask our FCRA Certified staff.

Topics: Employment Background Screening, FCRA Compliance, Cost of a Background Check, Hiring and Recruiting