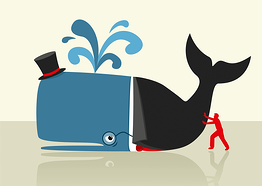 Years ago my grandfather, Robert Marsh (then founder and president of American Telecast Corporation) gave his team some great advice for managing sales and self-promotion. He reminded them that yes, "the squeaky wheel gets the grease", but it is also "the spouting whale who gets harpooned". His success (among many other traits) was built on the concept of staying innovative, yet never failing to remain humble.
I preface with this to make sure you understand I am not suggesting "managing up" by way of manipulation or brown-noising. With that said, have you ever had a boss that never seems to get anything done? Or they prioritize your needs below everything else, or so it seems? In any case, getting things done is difficult when dealing with a boss who does not have the same priorities you do. So, what is the secret to getting the boss to pay attention to your priorities in a timely fashion?
Actually, the answer is managing your manager, instead of the other way around.
Managing Your Manager
Now managing the manager does not mean you become the manager's boss. What it means is building a level of trust between the two of you, helping the boss make better and faster decision, and becoming an indispensable member of the team.
In managing your manager, you should realize why priorities are not always your manager's priorities. Your manager has several people reporting to him or her. In some cases, it may be multiple departments. You may want the manager's 100% attention, but your problems may only represent 5% of what is on the radar. This realization will help you make smart decisions in what to take to your manager and how to present it.
Tips for Making Your Priorities the Boss's Priorities
Here are some tips for managing your manager and getting your priorities to the top of the pile:
Filter out the unimportant stuff and only bring the most important things to your boss's attention. Unless you are dealing with a micromanager who wants to see everything, most bosses will let you make decisions within certain parameters. By filtering out the unimportant things, your boss will learn that you bring only important things up to him or her.

Book time with the boss well ahead of time. Managing your manager effectively means getting face time regularly with a weekly set time or a periodic appointment. This allows you to get things to the boss without waiting a week to get an opening.

Prepare anything you want to present to the boss. Summarize and synthesize the information in writing, visual, or oral form before you enter the office. Managing your manager means knowing what you want to get out of the meeting (a decision, an opinion, etc.). Doing all this will get the results you need and make the best use of your time with the boss.

Try to always couch bad news with good news. In managing your manager, you need to realize that if you talk to your boss only bad news, your boss will likely begin avoiding you. Who wants to hear only bad news all the time?

Present solutions with problems when possible. Throwing your problems on your boss's shoulders will not get you any brownie points. Managing your manager means bring a solution to the boss along with the problem. This gets the boss's input while solving the problem.

Build your boss's understanding of the current environment in which your team exists. Part of managing your manager includes educating him or her. Do not overwhelm the boss with technical information. Find best practices or case studies that are relevant.
How to Handle a Bully Boss
Managing your manager can be difficult if the boss is a bully. There are a few tactics to try:
Confront your boss, but do it behind closed doors. Bullies will not admit wrong or back down in front of an audience.
Focus on behaviors only. Do not even mention what might be causing the problem.
Make the boss aware of consequences. Mentioning how demoralizing a public dress-down effects employees is one option.
Try humor. With some bosses, humor will give them a way to see their problem without making them defensive in the process.
Point out how the behavior is bad for you and for the boss. You do not want to be humiliated. But, if your boss is seen in a bad light, it is not good for his or her career.
Go to HR only as a last resort. Human resources works for the company. They will keep a productive bully boss over someone considered a troublemaker without a great deal of proof.
Check out our post on Cubicle Bullying for more information.
Getting Credit for Your Work
Team work sometimes translates to your ideas becoming your boss's ideas. How can you go about managing your manager with this?
Get proper credit for your ideas and work by presenting them in a team meeting instead of just to the boss.

Become deeply informed on any idea you present to the boss. When the boss brings it up, you can come across as an expert by adding more information and asking the right questions. It makes you look good without undermining the boss.
These tips will help in managing your manager through many situations. With a bit of work, you can have your manager eating out of your hand.
Topics: Employee Relationship Management, Hiring and Recruiting