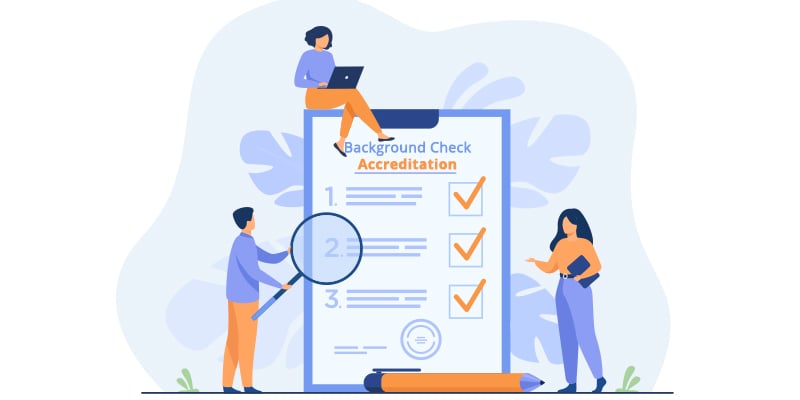 When employers hire consumer reporting agencies (CRAs) or professional background check companies, they're looking for verified information from trusted sources. How would employers know if a screening company can be trusted? How would they know if the reported information is true? Why does it matter?
VeriFirst Background Screening is proud to be PBSA-accredited. Here's why employers should care.
What is the PBSA?
The Professional Background Screening Association (PBSA) is an established non-profit representing United States-based companies involved in employment and tenant screening. Their mission is simple: "to advance excellence in the screening profession."
To achieve excellence, the PBSA creates strict, standardized requirements and accountability for its members through the Background Screening Agency Accreditation Program (BSAAP), which is governed by the Background Screening Credentialing Council (BSCC).
The BSAAP details how to evaluate and improve internal operating procedures for consumer reporting agencies in the following areas:
Information Security
Legal and Compliance
Client Education
Researcher and Data Standards
Verification Services Standards
Business Practices
What does it take to achieve PBSA Accreditation?
To become PBSA accredited, consumer reporting agencies must conform to the standards set within the six areas identified in the BSAAP. The standards dictate how to store, backup and destroy data, how to comply with the Fair Credit Reporting Act (FCRA), how to protect consumer privacy, how to educate clients on the use of the obtained data, how to audit records for accuracy, how to ensure their staff is compliant and more.
The CRA must then pass a rigorous, independent, onsite audit of these six areas to ensure the standardization of its policies and procedures. After three years, they're audited again and after five years, they must complete the process of initial accreditation again.
Why Should Employers Care About PBSA Accreditation?
To become accredited, background screeners must document and audit all of its procedures and policies. Documentation means that the employer client can expect consistency.
Accreditation requires a higher quality of competence, committing to employers that they can expect excellence and compliance.
Protecting consumer privacy and verifying results for accuracy helps employers to minimize their risk of non-compliance with federal regulations.
PBSA accreditation requires CRAs to adhere to these requirements so that employers can build a trusted relationship with a screening partner who is educated and will educate them through transparency and customer service.
We'd be happy to discuss VeriFirst's PBSA Accreditation if you have more questions. Thank you!