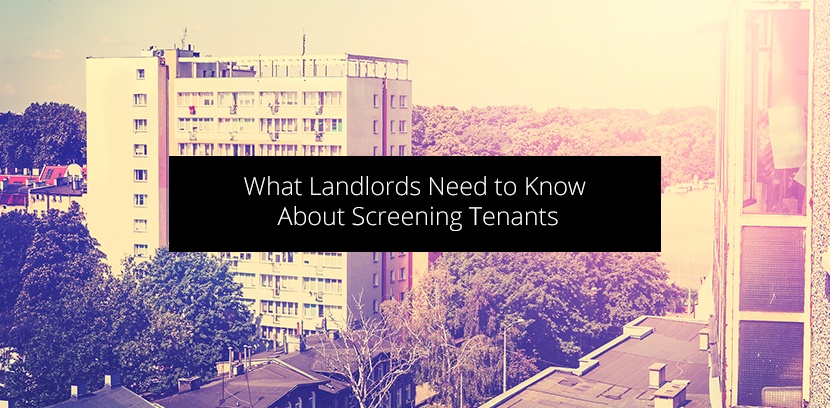 Landlords must follow regulated processes when choosing tenants for their properties. The Fair Credit Reporting Act (FCRA) protects consumers from inaccurate information and allows the ability to dispute false claims. If a property owner chooses to screen potential tenants, and if they work with consumer reporting agencies or other companies who provide information about tenants to property owners, these regulations must be followed. In late November 2016, the Federal Trade Commission issued new guidance with regards to tenant screening.
Here's an update on what landlords need to know about screening tenants.
Why Screen Tenants?
In order to protect your property, current tenants or property management employees, tenant screening is highly recommended. Background information from screening can include credit history, criminal history and past rental history.
Some questions and concerns about potential tenants may be:
Are they able to pay rent on time?
Do they have recent criminal convictions and/or will they be a threat to my property and other tenants?
What was their payment history at previous rental properties?
Is this person who they say they are?
See also: Which Background Checks Are Best for Tenant Screening?
Where to Obtain Tenant Screening?
According to the FCRA, landlords and property owners are legally not allowed to obtain a background check on an individual unless they have "permissible purpose" or a valid reason for gathering such information. The tenant must also have signed an separate and clearly-stated authorization form consenting to a background check.
Partnering with an FCRA certified background check provider is necessary to obtain tenant screens while staying compliant with the new FTC guidance. The new guidance requires that screening companies follow these guidelines:
Follow reasonable procedures to ensure accuracy.
Get certifications (of permissible purpose) from your clients.
Provide your clients with information about the FCRA.
Honor the rights of applicants and tenants.
When landlords choose adverse action, or not to rent, they must notify the tenants that a negative decision has been reached due to the results of a background check. The tenant must also be given the name of the company that supplied the background screening information and a summary of their rights under the FCRA. They will then be given time to dispute any inaccuracies or false-positives from the background check.
By following the new FTC guidance, screening providers are ensuring that landlords and property owners stay compliant with the FCRA regulations and "honor" the rights of those who are applying to rent properties.
What Happens when Non-Compliant?
Property owners and landlords who are not compliant with the FCRA guidance may face penalties and possible litigation from tenants. Common non-compliance mistakes are:
Not including a background screening consent form as part of the application
Discriminating against applicants due to arrest without conviction records in their criminal history
Not following the correct adverse action procedures or other common tenant screening compliance processes
Landlords who screen their tenants are only as compliant as the consumer reporting agencies, background check companies or any other company that provides information. Stay informed and choose the right partner who follows the new FTC regulations and who helps landlords adhere to the boundaries of FCRA compliance.
To learn more about VeriFirst's FCRA-certified tenant screening services, click the button below.