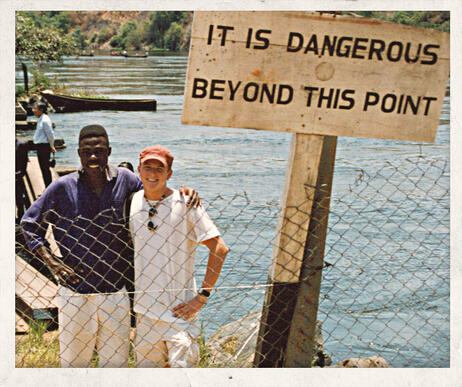 Me and my pal Sammy Musotsi, near the border of Kenya and Uganda.
Years ago, I worked in East Africa as a volunteer teacher in a remote village outside of Kakamega, Kenya. I was in transition during my collegiate years (took me awhile to find what motivated me) so I spent a year working abroad. Despite taking the necessary precautions and anti-malaria tablets, I managed to find myself sick on more than one occasion. This article is not about traveling (although that motivates me, too). This is about learning from my mistakes, and applying lessons from the third-world to our everyday business.
My host family was amazing; they were part of the Luhya tribe and always took great care looking after me. In addition to myself, there was one other westerner living in the village, Peter. He was living in his own hut about 10 minutes from mine; down a small dirt path, through the sugarcane fields. Peter and I were working at the same Harambee (community) school together, teaching conversational English to secondary students (ages 14-18). I emphasize 'conversational', as you certainly wouldn't want me teaching grammar! I was living in a mud hut with no electricity and no running water.
Waking up with Malaria
After about 2 months living in East Africa, I woke up one night with agonizing stomach pains. I was convinced I had food poisoning, despite my careful attempt to avoid meat and other risky foods. Solomon (the 16 year old man of the house, and a student of mine) quickly woke up 'Mama' (who slept in another hut nearby), then ran to Peters for additional help. There was no medical clinic in the village; no doctors, no cars, no telephones. The help Solomon sought from Peter was for my companionship, as he could speak English and understand my description of the pain. Peter was extremely comforting to have as moral support through that [very long] night. When the sun rose, I was still in pain. Previously unaware of what Solomon and Mama had done through the night, I quickly came to realize the power of their community.
While Peter was caring for me, my host family had been working with the villagers to arrange for my care outside of Shimanyero. They managed to go find someone with an automobile (scare) to come and pick me up. Our destination was a medical clinic in Kakamega. As the title of this suggests, blood work at the clinic confirmed it wasn't food poisoning at all. I had Malaria.
Fortunately it was caught quickly, and I had access to medicine (many others are not so fortunate). I was prescribed Halafan® (Halofantrine), a medication that was used to treat serious malaria infections in areas where it was known that other medicines may not work.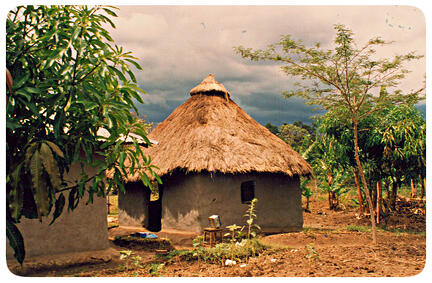 The home I shared with my host family in Shimonyero Village, Kenya.
Within a week or so, I was feeling better, and remain forever grateful to Peter and the people of Shimanyero for coming to my aide.
This experience has stayed with me (and fortunately, the Malaria has not). Recently, I got to thinking about how these circumstances can be applied to business lessons.
The 5 key lessons I learned from this experience:
Be on time: The one small mistake I made that caused me to contract Malaria was missing my weekly anti-malaria pill…by just 5 hours. To be effective, the anti-malarial pill Lariam must be taken every 7 days at the exact same time. While crossing the border into Uganda for a weekend excursion, I had forgot to take my medication. In those next 5 hours (I remembered the pill at lunch time), I was bitten by a mosquito that carried Malaria. It's so important to be on time. In business, I believe that "on time" should actually mean being a little early.
Don't jump to conclusions: It's easy to go with what we know, and can lead to wrongful assumptions. In my case, I was certain I had food poisoning. Had the community not pulled together and sought medical attention, my assumptions could have caused the illness to progress much further. Always consider the options. This is especially true with tenant screening and employee background screening. Do your research.
Seek expert advice: There is no shame in saying "I don't know". Whether it's in a sales meeting, staff meeting or for project research, seek advice from subject matter experts. At the risk of taking a little longer or costing a little more; it's important to have accurate information.
Community: Similar to how the community pulled together to find me transporation in a village with no electricity or running water, when we pull our resources together it is possible to produce uncommon results. In business, community is working together as a team with a unified goal.
Life experience: Don't underestimate the power of life experience. Reading about a business start-up is different than dreaming about one. And dreaming about one is different than living through one. It's appreciating the rewards, and learning from the risks.
The other funny thing I learned about the last bullet (life experience) was that my work overseas outweighed my average SAT scores for college admittance. Meaning, when I applied to colleges out of high school based mostly on SAT's alone, I wasn't all that attractive. Yet after taking a gap year and writing about these experiences, my college admittance applications told a different story.
I'd love to hear your comments or feedback. Please feel free to email me directly at rhoward@verifirst.com, via twitter @VeriFirst, or leave a comment below.
Topics: VeriFirst Insider, Hiring and Recruiting