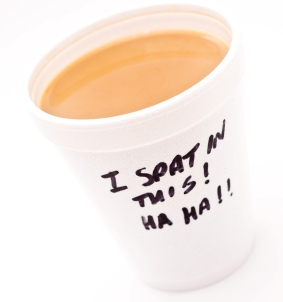 Violence in the workplace happens and with more frequency than most people realize.
In fact, the problem has become so alarmingly prevalent that the US Department of Labor's Occupational Safety and Health Administration (OSHA) recently published new web pages providing information about workplace violence. And about the concept of a workplace violence policy, OSHA states that "nearly 2 million American workers report having been victims of workplace violence each year. Unfortunately, many more cases go unreported."
OSHA lists factors that may increase the risk of violence which include:
Cash handling
Working with unstable individuals
Working alone
Working in isolated areas
Providing services and care
Work in any place of business where alcohol is served
Time of day (late night)
Location (high crime-rate areas)
Jobs such as: Healthcare professionals, public service workers, customer service agents, law enforcement agents, public education officials (e.g., teachers, school administrators), delivery drivers.
As an employer, you have a legal obligation to provide a safe working environment for your personnel. This includes ensuring that you take all possible precautions to prevent the occurrence of violence in place(s) of business. Put another way, you should implement a "Workplace Violence Policy". What is a workplace violence policy and what would it look like?
First, you should conduct a detailed and honest evaluation of your workplace, your working conditions and your employees. Are there certain locations within your operation where the stress level is particularly high, either because of the work performed or the physical environment? Are there employees that seem to have difficulty communicating effectively with co-workers or management? Does your employee handbook contain any language that might be considered a workplace violence policy? If so, is it emphasized during orientation for new hires and reiterated periodically for all employees? Also, canvass your employees to determine whether they have identified any areas of concern.
Does your enterprise utilize effective pre-screening tools to guard against hiring someone who might, in your work environment, pose a threat of violence to co-workers, customers, vendors or members of the public with whom he or she might come in contact? Investing in background checks is a small price to pay for the peace of mind that comes with knowing as much as is publicly available about an individual and is equally important to having a workplace violence policy.
Once you've "inventoried" your business, there are numerous components you'll need for your workplace violence policy. First and foremost, establish a zero-tolerance workplace violence policy and adhere to it without fail. Difficult as it may be to sort out incidents involving violent conduct, it is imperative that zero-tolerance is strictly imposed at all times because disparate treatment will almost always give rise to accusations of discrimination in disciplinary procedure (especially if one person is terminated and the other is not). Your investigation into any occurrence of fighting on the job, for example, must be thorough and beyond reproach.
Any workplace violence policy should include, at the very least, the following:
Statement of Zero Tolerance
Clear definition of prohibited behavior: Examples include direct threats/physical intimidation, implying violence, stalking, bullying-either physical or cyber-bullying, horseplay, assault in any form and a general statement such as "Any other communication or act that a reasonable person could consider a threat of violence.
Workplace Security Measures
Banning Weapons
Inspections: Company reserves the right to enter or inspect any work area including, but not limited to, desks, computers, etc.
Provisions for domestic violence
Procedures for Reporting Acts/Threats of Violence
Procedures Regarding Potential Future Acts of Violence
Specific Procedures for Investigating Incidents
Mitigating Circumstances, if any
Training/Instruction Procedures
There are, of course, multiple factors to take into consideration when drafting, implementing and administering a workplace violence policy. Not having one shouldn't be among them.
VeriFirst Background Screening, LLC makes no EXPRESS NOR IMPLIED warranty that this BLOG is appropriate for your particular needs. PLEASE SEEK THE ADVICE OF LEGAL COUNSEL REGARDING YOUR DUTIES AND OBLIGATIONS UNDER THE FAIR CREDIT REPORTING ACT AND OTHER FEDERAL AND/OR STATE LAWS.