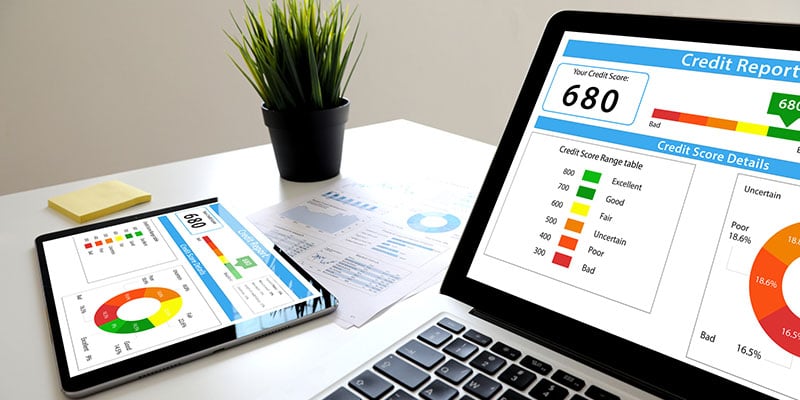 A credit report is a powerful tool used to determine the financial trustworthiness required for certain jobs or obligations. Employers must use caution when researching the background of job applicants, especially when it comes to credit, as some states prohibit denying employment for bad credit. Landlords, often the victims of careless or sometimes dishonest tenants, use every tool available to safeguard against renting to those who won't or can't meet their obligations under a lease. In both cases, there should be a clear understanding of what's being shown on credit reports.
When trying to understand applicant credit, here's how to read a credit report.
Personal Information
Credit reports contain personal information including name, address, and place of employment. Here are two important things to remember:
Keep confidential information private. Don't leave a report lying around for someone to find it.

Because incorrect information (including misspelling) is common, verify and double-check the information to be sure the report refers to your applicant.
A Summary of Accounts
The Credit Summary section provides information relating to the different types of accounts an individual has, including:
the total number of accounts
balance owing (if any) status (both current and delinquent)
the number of accounts contained in public records
how many credit inquiries have been made in the two-year period prior to the date of the report.
See also: How Trustworthy is a Credit Report Background Check?
Account History
The Account History section includes:
The name of the institution reporting the information.

Account number.
Type of account: Revolving, education loan, auto loan.
Responsibility: Is the account individual or joint? Is there another person authorized to access/use the account?
Monthly payment: Minimum amount due per month.
Date opened (account established).
Date reported: The last date the institution updated with the credit bureau.
Balance. The amount owed on the date report was generated.
Credit limit/loan amount.
High balance/high credit: Highest amount charged on the account and/or original loan amount.
Past due: As of the date the report was generated.
Remarks: Comments creditor made about the account.
Payment status: Current, delinquent, written off. May indicate previous delinquencies.
Payment history: Monthly payment status since the account was established.
Collection accounts: May appear in account history/separate section, depending on credit agency.
Public Records
The Public Records section discloses information such as bankruptcies, judgments, tax liens, and any other adverse action taken by any creditor in an attempt to collect a debt. This information remains on file for 7 to 10 years.
Credit Inquiries
The section entitled Credit Inquiries shows the times when someone checked the applicant's credit report. These inquiries may relate to a credit application, applying for credit increases, or even "soft inquiries" when an individual checks their own credit.
Good to Know
As is the case with any screening tool, employers should be sure that credit checks are legal in their state. Employers and property managers or landlords must also be sure to obtain applicant consent prior to requesting any background check and include other factors in determining hiring or housing decisions.