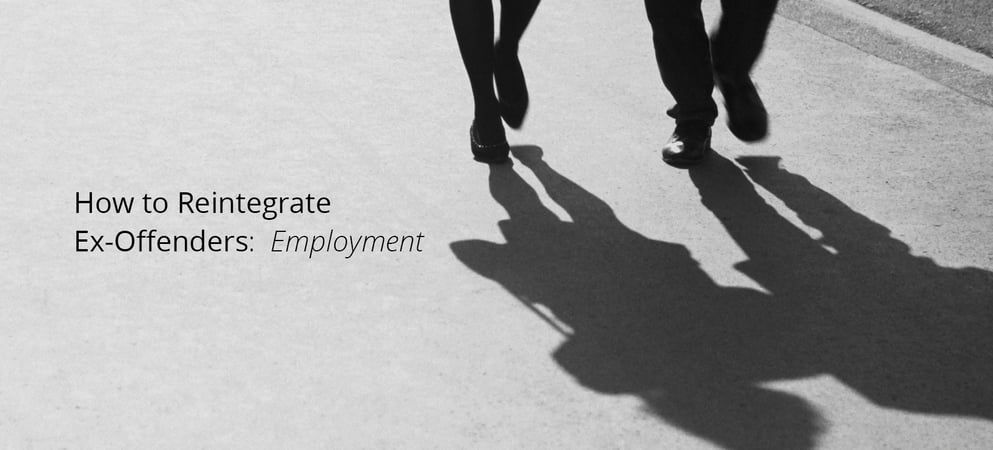 With the proliferation of Ban the Box and the growing call for fair chance regulations across the United States, employers are often left at a loss when a background check reveals an ex-offender. More Americans are talking about the nation's incarceration rate and how to successfully reintegrate those convicted of a crime, yet there is still substantial evidence that the paradigm shift hasn't fully been accepted. There is undeniable evidence that employment is one of the strongest factors in successful reintegration.
Despite a criminal background, employing ex-offenders could be a positive contribution to society.
Criminal Background Checks
Employers run criminal background checks to not only protect their own property and assets but to also protect their employees and customers. Negligent hiring claims are still in the news, however, so not all businesses are taking the time to assess job candidates. With every new hire or promotion, organizations put their reputation and the safety of those associated on the line.
Criminal backgrounds checks are an important part of the hiring process and shouldn't be overlooked, especially in certain cases. If conducted incorrectly, background checks can also reveal a false positive, such as in the case of mistaken identity, which unfairly leaves a likely candidate scrambling to clear their name. Accurate and secure background screenings, especially those conducted by a third party screening company, can help employers to make hiring decisions with confidence.
How Community Helps Ex-Offenders
It's no secret that a supportive community provides positive reenforcement for ex-offenders. From therapy groups to assistance with housing, those who have been out of society for a prison term may need time to adjust and to lean on those in their community to get them started in the right direction.
Gainful employment is one of the healthiest ways for ex-offenders to start a productive new life. Many re-entry programs for ex-offenders also include assistance with job placement. These programs help with education, skills, job searching, resume and interview assistance. For those looking to become valuable members of society, earning a living wage also helps prevent re-offending and lessens the reliance on social services.
How Employment Law Helps Ex-Offenders
Ban the Box and Fair Chance regulations are being passed through city and state legislation every day. Employers are wise to conduct criminal background checks but to also thoroughly assess these criminal records when making employment decisions. In order to avoid a battle in the courtroom, businesses should be aware of current laws as they relate to hiring ex-offenders. As a best practice:
Employers Who are Helping Ex-Offenders
Interestingly, while researching this topic, much of the information related to ex-offenders and employment highlighted entrepreneurial efforts. Many ex-offenders researched or acquired a skill while in prison or, at the very least, learned from their mistakes and became more determined to create a self-sufficient life.
Small businesses, looking to hire those who are willing to learn new skills and grow with the company, are hiring ex-offenders more than ever. Some large corporations, such as Walmart and Target, have removed the "have you ever been convicted" question from their applications, in a move similar to Ban the Box. One resource, a website to assist ex-offenders find jobs, listed the armed forces, construction, hospitality and a list of "felon friendly" employers including Apple, Dr. Pepper, Hilton Hotels, Trader Joe's and more.
While society slowly embraces the idea of hiring ex-offenders, community groups, the law and employers are moving forward in an effort to help those who wish to help themselves. Information obtained in criminal background checks is vital to determine an applicant's suitability and trustworthiness. Employers must continue to protect their employees and customers. They must also be aware not to violate the rights of applicants, those with a record or not. Employers must also recognize when a criminal past can not be used against a canditate. Offering employment and a fair chance at a new life helps ex-offenders stay out of prison, reduces their need for social services and assists in reintegration for those who want a second chance.
Topics: Types of Background Checks, Employment Background Screening