Every year, the drug screening laboratory diagnostics company Quest Diagnostics publishes its annual Drug Testing Index as a public service to reveal patterns of drug use among those in the American workforce. The company performs pre-employment screens as well as random drug testing among those already employed. With over 9.1 million tests on record, and after a large drop in positive tests from 1988 to 2012, the past few years are seeing a rise in positive drug tests for marijuana, cocaine, and methamphetamine. (See chart below from Quest's Annual Positivity Rates.)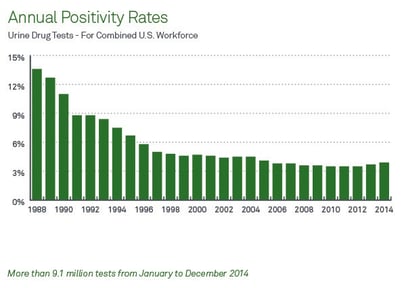 Human resources professionals are tasked with keeping employees safe and their employer's business drug-free. They have questions about drug testing - when, how, what, etc - and are unsure where to turn for answers. Here are some Frequently Asked Questions about drug screening.
Do I have to set up a drug-screening program?
There is no federal law mandating drug screening so each employer must be aware of which laws apply to them. For instance, if the business is regulated at the federal or state level (banks, law enforcement, national security, transportation, healthcare), employees are subject to drug screening for the health and safety of others. If the business is privately owned, it is up the employer. In some cases, insurance or worker's compensation may be discounted if the company is drug-free.
If you are setting up a drug-screening program as a condition of employment for your company, be aware that the program must apply to all employees. In some states, employers must also provide indication that certain jobs require drug testing as a prerequisite to employment.
What are some HR best practices for a drug-screening policy?
As a best practice, a drug-screening policy should include every circumstance in which drug testing will be performed. This policy should also be communicated to all managers and employees within the organization as well as be displayed in a conspicuous location. The policy should also define what drugs will be tested, procedures for testing and the disciplinary consequences should there be a positive result. Employees must also be aware of disciplinary action, including termination, if they choose not to submit to a drug test. All results should be kept confidential.
What types of drugs should I test for?
Most employers request a 5-panel drug test but some may opt for the 10-panel.
The 5-panel drug test screens for the following:
Cocaine
Amphetamine/Methamphetamine
Opiates such as heroin, codeine and morphine

Phencyclidine or

PCP
THC (marijuana)
The 10-panel drug test includes:
Cocaine
Amphetamine
Methamphetamine
Opiates such as heroin, codeine and morphine
Phencyclidine or PCP
THC (marijuana)
Propoxyphene
Methadone
Barbiturates
Benzodiazepines
Read More:What You Should Know About Pre-Employment Drug Screening.
Who is responsible for paying for the drug screening?
The employer pays the cost of background checks and drug screenings.
Can I test for marijuana even if it's legal in my state?
With the legalization of marijuana in some states, many employers have questions about screening for it. Marijuana is still federally illegal under the Federal Controlled Substances Act however, in states where it is legal, legislators are still trying to define guidelines for testing. As an HR professional, you still have the right to screen for drugs, however, it is advisable to review state laws to see if you can deny employment or promotion due to the use of marijuana. Also, be aware that some employees may be using medical marijuana and some states, such as Arizona and Delaware, provide employment protection if the employee isn't impaired on the job.
When should I test for drugs?
A clearly-defined drug screening policy will help lessen the degree of mistrust between employer and employee. If an employee knows in advance that the company performs random screenings, for instance, they will be less resistant to obtaining one. In general, employers test for drugs because of:
Pre-employment/pre-promotion: Screening before hiring is typically when a drug test is administered. Review state laws, such as California, to see if it is against the law to screen before a conditional offer of employment is made. In some cases, the Americans with Disabilities Act (ADA) could be violated if employers are gathering medical information before offering a job. A promotion to a new position or assignment may also require a drug screening.
Random: Random drug screenings may be considered in positions where the employee is required to be sober and precise. These screenings are to protect from serious risk to the health and safety of others or property. The randomness of the screens may be decided with the help of computer software. Verify state laws to see if it is legal in your state.
Reasonable suspicion/post-accident: If an employer suspects drug use, if an employee appears to be on drugs in the workplace or if there is a workplace accident, a drug screening can be performed due to reasonable suspicion. Where other drug screenings are performed with little assistance from the employer, it may be helpful to go with the employee who appears to be disoriented at work.
What is "reasonable suspicion"?
In order for an employer to request a drug test based on reasonable suspicion, they must have legitimate reasons for suspecting drug use. For example, a test can be requested if:
The employee is displaying unusual conduct such as slurred speech, falling down, or other erratic behavior.
Another employee or reliable source reports that an employee is using drugs.
There is evidence that the employee has solicited, sold or used drugs in the workplace.
A workplace accident may have been caused by drugs.
How long should I wait for drug test results to come back?
Waiting for drug tests to come back can be stressful to a hiring manager who is concerned their great employee could take another job. Drug test results should come back in 1 to 3 days so that employers can move forward in the hiring process or move to adverse action.
Are there any drug screening red flags?
One of the biggest red flags in drug screening is if the employee keeps delaying or putting off the test. Reports of other cases that may cause concern when taking a drug test include: "Negative-dilute" results (when an employee consumes too much water, possibly to flush out their system), or "Temperature out of range" (showing there is a possibility the urine specimen was tampered with). In some extreme cases, if the employee suddenly shaves their head prior to a Hair Follicle drug screening, a red flag should definitely be raised.
What do I do if an applicant or employee fails a drug test?
If you have a drug screening policy at your place of business, it should state very clearly the consequences of failing a drug test. Some states will allow a zero-tolerance policy so check with state laws to ensure you are not violating employee rights. Federal employees are offered assistance via an employee assistance program (EAP). If the employee does not cease drug use and adhere to the rules of the EAP, they can be terminated. Businesses may opt into a second chance policy in which the employee is given a second chance to seek treatment in order to continue employment.
Can an employee contest the results of a screening?
The employee may contact the medical review officer (MRO) within 5 days, in writing, to re-test. Keep in mind, the re-test is performed on the same sample and at the employee's expense.
What is the fastest way to implement drug testing?
If you are currently working with a professional background screening company, they may also provide electronic drug screening. For an HR professional that wishes to reduce paperwork, increase turn around time, and increase the depth of testing, an electronic drug screening process is the fastest and most accurate way to implement drug testing. Results are fast, accurate and accessible online.
---