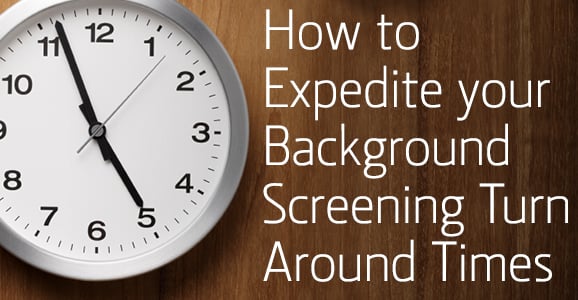 Today, it is essential to perform background screening for anyone who will be working with you closely. Whether you hire employees or you accept volunteers, you need to screen everyone that's going to have access to your business or organization in any way.
At a minimum, background screening does three things. It verifies that new hires:
Have the education and employment history claimed
Have the necessary credentials and licenses, as claimed
Do NOT have criminal backgrounds that could put you or your employees' safety in jeopardy, or the profitability of your business at risk
It's important to expedite those background screening turnaround times as much as possible, as thorough as they must be. Delays could cost you valuable time and money, since new employees or volunteers can't begin to work for you until background screenings are done. Even so, you can't sacrifice thoroughness and therefore potentially risk the safety of yourself and your employees, and the protection of your business's sensitive information or profits.
Most common cause of delayed background screening: Employment verification
Most employment verifications will be done by telephone, or through automated third-party databases. Some lawyers will also allow verification to be done by email, fax, or postal mail. Verification also depends on how quickly previous employers or human resource professionals will submit the requested information.
In order to expedite turn-around times, you need to provide as much information up front as possible. Specifically, you should have:
The name of the candidate
When he or she was employed at previous jobs, and/or enrolled at educational institutions
A complete list of educational institutions attended, and specific dates of enrollment
A complete work history, including names of employers, dates worked at each employer, and exact job titles for each position held
A signed consent form from the employee or volunteer
Clarify gender-neutral names as necessary
If a new applicant has a gender-neutral name (Chris, Robin, etc.), make sure you have made the gender of the applicant clear. Failure to do so could cause confusion and result in inaccurate results. Inaccuracies could delay the hiring process or cause you to dismiss a potential hire because a background check erroneously shows criminal activity or a misrepresentation of work and educational history that won't match up with what a candidate has provided.
Use a reputable accuracy service to verify criminal background information accuracy
Information obtained from low-cost or free criminal background check services can be grossly inaccurate. Public records, too, can have inaccurate information. The most common problem with this type of verification is that it produces false positives for criminal activity. This has significant disadvantages, again, because inaccurate information can cause a delay in hiring. It can even mean that you overlook a very qualified potential employee that was erroneously "red flagged" as someone with a criminal background.
To avoid this, use an accuracy service like VeriFirst to verify the results of background screenings so that you're sure the results are as accurate as they can be. VeriFirst's state of the art technology performs for truly accurate results, unlike traditional on-site researchers.
When you hire new staff for your business, you want to make sure that every person is trustworthy and competent. A thorough background screening can do that for you. It should include an accurate criminal background check provided by an accuracy service like VeriFirst so as to ensure that your employees, yourself, and your business and profits will be protected and safe.
Topics: Employment Background Screening