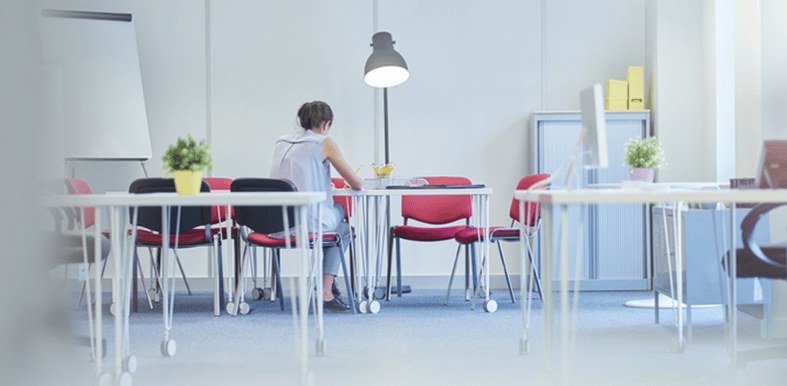 A recent Harvard Business Review article stated that over 40% of adults in America feel lonely. As the 19th U.S. Surgeon General who served from 2014 - 17, the author also noted that employees and up to half of CEOs report feeling lonely in their roles, even if they love their jobs. This "loneliness" epidemic affects not only health, but business as well.
What can human resources professionals to do reduce feelings of isolation in the workplace?
What Creates the Loneliness Epidemic
New work models, such as telecommuting and freelance contracting, have reduced the number of in-person interactions in the workplace. Even in the office, isolation is rampant due to busy-ness or other factors, including workplace bullying. A 2014 study found that workplace bullies rely on ostracism as a form of control over their victims, leading to health problems or quitting. The same study found that social isolation was an acceptable form of workplace bullying, with many not speaking out since they haven't been physically harmed.
Because most American workers spend more time with their co-workers than their families, the feeling of isolation and loneliness is prevalent in the workplace. Company culture and human resources can help.
How to Create Lasting Connections Among Employees
When employees feel connected to the company mission and the people around them, the organization thrives. A company's management and culture can help to grow this connection by establishing practices for sharing and vulnerability.
Before any steps are taken, it's good to survey your teams to see how they feel. Do they feel genuine closeness with their co-workers or do they feel a sense of isolation? Do they look forward to working together towards a common goal or do they dread coming into work? They may also have ideas for reducing loneliness in the workplace. Building a quality company culture begins with listening to employee feedback.
Here are a few helpful ideas for company culture:
Create sharing exercises during team meetings including family photos, hobbies, or other experiences.

Reward, encourage, and demonstrate collaboration and generosity. When executives model positive behavior and relationships, their teams generally follow.

Build a culture of acceptance, trust, diversity, and "psychological safety". If employees get to know each other as humans with lives outside of work, they're more likely to be understanding and helpful if someone has personal challenges.
Create structures that foster connection and relationships. For example, encourage team breaks during the day. Develop healthy competitions such as team fitness or other sports activities. Have office work spaces that are perfect for conversation or relaxing with co-workers.
Take note if particular employees aren't engaged in team activities or tend to stay to themselves. They may not be a good fit for the team, they may be introverted, or they may have outside struggles that have them distracted.
Encourage curious and open dialogue around problem-solving and team-building. There may be company activities or promotional systems that prevent closeness and instead make employees more aggressively competitive for salary or better job roles.
If there are employees that work remotely, help them to build a routine around their work activities. Also, include them in any team fitness activities, even if it's through an app where everyone logs their goals.
Isolation can also be reduced by giving victims of workplace bullying a voice. Again, improvements should be measurable so an anonymous survey of employees may be a good place for reporting workplace bullying. Human resources can also help by:
Openly discussing examples of workplace bullying, including isolation or ostracizing.

Creating a process for reporting incidents.

Documenting workplace policies for preventing and stopping workplace bullying behavior.

Recruit as an "anti-bullying" or "pro-acceptance" organization. Mentioning the company's low tolerance of workplace bullying may discourage some applicants.

Screen applicants with a professional background check company prior to hiring to identify previous workplace infractions.
Use behavioral interviews to determine if the applicant's personality is a good fit for the team and company culture.
The loneliness epidemic is not only in the workplace but widely evident, despite our constant connection to 24 hour news and social media. Isolation and loneliness, however, can be reduced in the workplace by recognizing that Americans spend more time with their co-workers than their families. Human resources and company executives can alleviate the stress and health problems brought on by workplace loneliness by recognizing the symptoms. Generally demonstrated in low morale, low productivity, and high turnover, employee surveys may offer insights to creating policies and other ways to foster a sense of belonging at work.