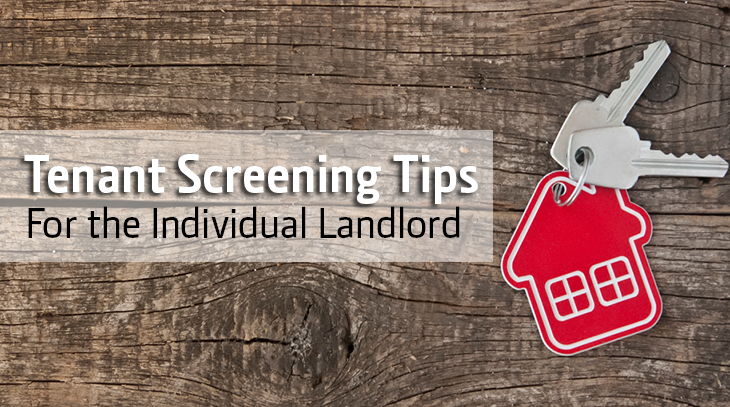 Independent property owners, including those that are looking to rent out their own home, are right to have concerns. They want to make sure the mortgage can still be paid and on time. They want to know that their beloved home will be left in capable hands with a trusted tenant. Here are a few helpful tenant screening tips for the individual landlord.
Research and Decide Your Rent Rates
Part of renting your property is deciding on the price of rent. Before making a move, do some research on rental rates in your area. Also, remember to factor in the cost of maintaining your home and other management fees. If possible, try to collect security deposits for potential legal fees, if you should have to go to court for damage or delinquent payments.
Understand Your Rights
Look into insurance on your property to cover damage by the tenants as well as the other things that are typically covered under homeowner's insurance. Research housing laws on both the local, state and federal level so you have a clearer understanding of your rights and responsibilities as a landlord. Also, be prepared for the tax ramifications for renting your property. Make sure you know what to expect when tax time comes around.
Know Your Tenants
You have many memories in your home that you can't trust to just anyone. Running a background check, as well as a credit check, is imperative for new landlords when considering a renter. In order to gather this information, you will have to request personal data from your potential tenant that they may be hesitant to give. As a new landlord, you may also have some concerns about the "internet data search" on your renter. Is it true? Can it be trusted?
VeriFirst has partnered with TransUnion for the perfect solution to independent property owners or one-time landlords.
As an individual landlord, VeriFirst.MySmartMove.com allows you to obtain the following information quickly, reliably and all online. Plus the potential tenant's personal data is kept private and secure:
Tenant Credit Check Report
National Criminal Search and Eviction Report
Customized Leasing Recommendation
Finding the perfect tenant for your rental property doesn't have to be a nightmare. Armed with the right information, you can rent out your space with confidence and sleep a little better at night.
If you own or manage 25 Units or more, our Tenant Screening platform provides further discounts and expanded search criteria. To learn more, click here.
Topics: Tenant Background Screening